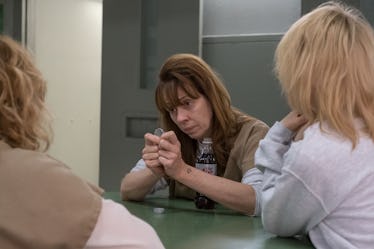 Frieda Is In Trouble In 'Orange Is The New Black' Season 6 & It's Because Of Her Twisted Past
Netflix/JoJo Whildin
There's a decades-old grudge lingering at Litchfield Penitentiary's Maximum Security Facility and it's affecting hardened inmates and "cookies" alike. What happened back in the '80s certainly didn't stay there when it comes to two rival sisters and one inmate who got caught up in their feud and now an all-out war is on the horizon throughout Season 6 of Orange Is the New Black. So, what happened between Frieda, Carol and Barb on OITNB that led to this potentially lethal conflict? This convict clash was a long time coming. Spoilers ahead if you have not seen all of Orange Is the New Black Season 6.
Frieda Berlin (Dale Soules) became a main character in Season 2 when Red befriended the seasoned "Golden Girls" of Litchfield's greenhouse. A Season 5 flashback revealed her to be a survivalist since childhood — the former top-notch Girl Scout's father even put her through an endurance challenge that left her alone in the wildnerness with nominal food and tools. Suffice it to say, the woman knows how to take care of herself and she's got a seriously cutthroat attitude when it comes to staying alive. Her skills were proven even further when she created a makeshift bunker during the riot. You may remember that Frieda was previously in Max, and now OITNB viewers have a bit more insight into what went down during her first stint there.
OITNB's new digs are the confines of Max's storied walls, and if these walls could talk they'd probably say: "Watch your back, Frieda." Frieda has longstanding beef with not one, but two inmates who have occupied the prison since what appears to be at least the Reagan era. Episode 3 shines a light on Frieda's Max past — she's teamed up with a tough, dirty blonde in oversized glasses with a hankering for Burt Reynolds named Carol, who's managed to create a lucrative C Block drug biz out of a hidden area behind a bookshelf. Carol's enemy just happens to be her sister Barb, who's got control of another contraband selling situation over in D Block. It's sibling rivalry to a dangerous degree and young Frieda's right in the middle. Sidenote: Carol and Barb have a disturbing history of violence.
Leave it to the resourceful Frieda to make liberating lemons out of illicit lemonade. She decides to sabatoge the fueding family tree to save her own imprisoned butt by framing Barb for stealing Carol's stash. This incites even further chaos between the sisters, as well as C and D Block. Frieda rats out the culprits, makes a deal, and thus gets transfered minumum. Classic Frieda.
"Stay out of trouble up the hill," a warden warns her before she gets on the bus to camp. "You just made a lot of big enemies down here."
Cut to present day and Frieda's back in Max, about to face the very same women she burned all those years ago. Carol and Barb's longstanding bad blood still dominates Max's threatening social dynamics — C Block is run by Carol and D Block by Barb. Of course, she's hatched her own plan to stay out of the fray by finding herself in the prison's cushier "Florida," aka neutral territory. Frieda is up to her old merciless tricks and Carol and Barb's deep-seeded animosity escalates throughout the entirety of the season, dragging almost everyone in its wake, reaching Shakespearean proportions.