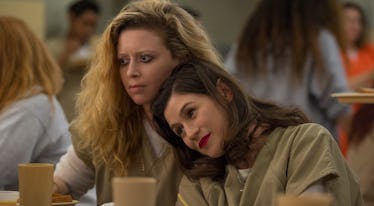 'OITNB' Season 6 Is Adding A New Character & She'll Be A Big Part Of Nicky & Lorna's Story
Netflix
Orange Is the New Black may have one of the most expansive ensemble casts in television, but each season still manages to squeeze in a few more notable inmates. And the upcoming sixth season is no exception — as we get back into the complicated lives of Litchfield's inmates, there will be a new prisoner who becomes a big part of the new season. So, who is Tina Swope on Orange Is the New Black Season 6, exactly? And how will this new character shake things up among the Litchfield inmates? Let's get into what we know.
Tina Swope is the first newly added character to Season 6 of Orange Is the New Black to have been announced, and actress Rebecca Knox spilled a bit about what her role in the show will be like in an interview with Seat42f. The biggest nugget of information about Tina Swope is that she will be heavily involved in Nicky Nichols' and Lorna Morello's storyline. Knox revealed that the two cast members she worked with most are Natasha Lyonne and Yael Stone:
I worked with Natasha Lyonne (Nicky) and Yael Stone (Lorna) of the original cast most. Those two have always been my favorite characters; so working with them was so great. They are powerful presences who have been acting for far longer than I have so playing off of them taught me a lot about finding my own strength.
As a reminder, Nicky and Lorna's story left off at a pretty precarious place at the end of Season 5. The two on-again-off-again lovers were hooking up throughout the season... until Lorna begins to think she is pregnant (by her husband). She tells her husband that she's pregnant, but he runs off, and Nicky tries to convince Lorna that this pregnancy is all in her head, assuming that it is another one of her fabrications to keep her fantasy life intact. However, in the end, Lorna confirms that she really is pregnant by taking several pregnancy tests, and Nicky calls her husband and coerces him to take responsibility for the baby.
So yeah, things are kind of fractured between Nicky and Lorna heading into Season 6, which is helpful knowledge in guessing how Tina Swope fits into all of this. My guess would be that maybe Tina might be a new fling for Nicky, making Lorna jealous. After all, Lorna will likely be fully devoted to her husband now that she is pregnant, and we all know that Nicky can't go too long without someone to cuddle up with. Since we know Tina is involved in the Nicky and Lorna story, the part of the "other woman" seems to make the most sense, but again, that is totally just a guess.
Rebecca Knox also described her character of Tina as a tough girl who is determined to get what she wants at any cost, but kept all other details about the new inmate vague. According to Knox's IMDb profile, Tina Swope will appear in five of the 13 new episodes, with her character's run existing mostly in the middle of the season.
It is also looking very likely that the upcoming season will not be taking place at Litchfield Penitentiary for the first time ever. Last season ended with all of the inmates being loaded into buses after cops invaded Litchfield to break up the prison riot, and a recently released teaser for Season 6 shows these buses driving away from an empty, destroyed Litchfield, teasing that the inmates are being taken to maximum security holdings.
Season 6 of Orange Is the New Black will premiere on Netflix on July 27.