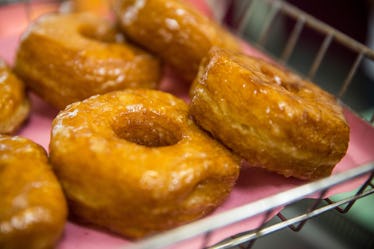 Dunkin' Donuts Is Removing 10 Items From Their Menu & You Will Be Devastated
Andrew Burton/Getty Images News/Getty Images
Ringing in the new year often tends to bring major (and often necessary) changes. Some make an effort to readjust their lifestyle, while others shift their focus towards bigger and better accomplishments. Some changes, however, are less favorable. For example, Dunkin' Donuts has officially decided to reduce their critically-acclaimed menu. So if you've already heard the earth-shattering news, you might be wondering which Dunkin' Donuts menu items are being removed. And in this time of hardship, we're sending all of the condolences your way.
According to Boston.com, our beloved coffee and donut haven recently announced that 10 of their freaking glorious menu items are getting the boot. Apparently, they tested a more "simplified menu" in several stores this past summer, and are now officially releasing a smaller menu as of Jan. 8. They will reportedly start the change in New England and upstate New York, and finalize it nationwide in March 2018. Dunkin' will be officially be cutting 10 items from the menu (which don't even include their now-shortened doughnut menu). So if giant tears aren't currently blurring your vision from reading any further, here's a look at what is going to be leaving your Dunkin' life in just three short months:
Turkey Cheddar Bacon Sandwich
Ham & Cheddar Sandwich
Tuna Salad Sandwich
Chicken Salad Sandwich
Big N' Toasted Breakfast Sandwich
Angus Steak & Egg Breakfast Sandwich
Tropical Mango and Strawberry Banana Smoothies
Peach, Caramel, and Mocha unsweetened flavor shots
Some optional muffin, bagel and cream cheese selections
Flatbread
I don't know about you, but I am currently sweating bullets. Those egg white veggie flatbreads have carried me through so many hard times. From hungover subway rides to every morning I wake up late (which, to be real, is often), the flatbreads have always been there for me... alongside their soon-to-be defunct unsweetened Carmel flavor shot. This news is exceedingly overwhelming for Dunkin' fanatics nationwide, and if anyone at all needs to talk about it, I am totally here for you.
According to Food & Wine, a statement from Dunkin' Donuts said that this (absolutely horrific) decision to cut their menu will ideally push for "faster, more accurate service, and a more consistent consumer experience from store to store." While customers around the globe (myself included) couldn't be more devastated, all great things do eventually come to an end, and some of us just need time to grieve.
Food & Wine also mentioned that an undecided selection of bagels, muffins, and cream cheese flavors will also be eliminated, and we can't even imagine what that might entail. TBH, Dunkin' can't pry their blueberry muffins from my cold, muffin-lovin' hands.
Although we're all unspeakably upset, Dunkin' is (kind of) redeeming themselves with a release of two new dope AF drink flavors. On Jan. 8, Dunkin' released a Buttery Toffee Nut coffee (which combines rich toffee and toasted nut flavors), as well as Winter White Chocolate — a caffeine-infused take on the classic white hot chocolate. Unfortunately, these flavors will only be available for a limited time, so def get them while you still can. Dunkin' will also be hosting $2 latte "happy hours" from 2-6 p.m. through Feb. 25, so that's seriously phenomenal.
It's safe to say that most of us are beyond torn up about Dunkin's latest menu wreckage. From the loss of our flatbreads to the casualty of the tropical smoothies, we're not completely sure what to do with ourselves now. But alas, the sun will still rise, and we can still get some of our classic faves — now with faster service (apparently). I guess that's pretty dope. And if that isn't enough to lift your spirits, their new winter drink flavors and latte happy hour are successfully warming hearts nationwide.
Check out the entire Gen Why series and other videos on Facebook and the Bustle app across Apple TV, Roku, and Amazon Fire TV.