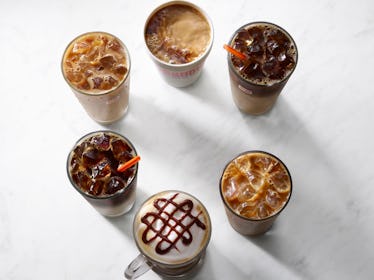 Dunkin' Donuts' New Winter Drinks Are Here & You're Going To Love Them
Winter is the best time for new coffee flavors. Don't get me wrong, I'll take fun, new drinks any chance I get. But trying new flavors in the winter feels extra special, as it helps us get through the cold, dreary days. One of your favorite coffee chains agrees, and just released two new flavors that are sure to keep your spirits high this winter. Dunkin' Donuts' Buttery Toffee Nut and Winter White Chocolate are here to keep us happy and toasty all season long.
The two new flavors are totally different, but equally as delicious. One is a coffee, while the other is a hot chocolate. So even if you're not into coffee or you don't want the extra caffeine, you can still get in on the fun.
The new Buttery Toffee Nut coffee is a warm combination of buttery toffee and toasted nuts. According to Dunkin' Donuts, the company spent hours handcrafting the nut brittle that would eventually become the base flavor of the coffee. They taste-tested several pounds of toffee (um, lucky) before deciding on the winning flavor.
As for the Winter White Chocolate, it's exactly what it sounds like: a white chocolate take on everyone's wintry favorite — hot chocolate. The new flavor combines creamy white chocolate and subtle vanilla flavors. Plus, it was tested by real consumers in Dunkin's sensory lab, so it's definitely going to be a hit.
The fun doesn't stop there. Customers can order these flavors as hot or iced coffees, lattes, macchiatos, and Frozen Dunkin' Coffee at participating Dunkin' Donuts' nationwide. Unfortunately, they will only be available for a limited time, so run — don't walk — to try them out.
Not only is Dunkin' offering these delicious new flavors, but they're also helping us ring in the new year in a totally different way. The coffee haven is introducing new Dunkin' Deals, so if you like Dunkin' and you like saving money, get pumped. Or, get a pump of caramel syrup, LOL — anybody? Anybody?
Seriously though, this deal is amazing. Starting Jan. 8, Dunkin' customers can enjoy two Egg and Cheese Wake-up Wrap sandwiches any time of the day for only $2. One for you and a friend, one for you and your mom, or two for you. Any way you cut it, that's a dollar each, people.
The second Dunkin' Deal is a happy hour of sorts (okay, I'm listening). From 2 p.m. to 6 p.m., aka prime pick-me-up hours, customers can snag a medium hot or iced latte for just $2. I think "two" just became my favorite number.
These awesome deals will last through Feb. 25, which is honestly the perfect amount of time. I don't know about you, but once we get through February, it always feels like spring is right around the corner. These deals will definitely help us power through the worst of winter.
Oh, and that's still not all. Dunkin' customers who are all about tea will receive a very special gift to celebrate National Hot Tea Month. Dunkin' is introducing Decaf Breakfast Tea, a blend of premium black teas from around the world. If you didn't know, they already offer a wide range of teas, including Harmony Leaf Green Tea, Chamomile Fields Herbal Infusion, and Cool Mint Herbal Infusion. And on Friday, Jan. 19, from 10 a.m. to 2 p.m., every Dunkin' guest can celebrate with a complimentary Bold Breakfast Black Tea sachet, so you don't have to be like Mariah Carey and suffer without any hot tea.
This is shaping up to be a big year for Dunkin', and it's only just begun. I can't wait to try out these new flavors and deals, and see what they roll out next.
Check out the entire Gen Why series and other videos on Facebook and the Bustle app across Apple TV, Roku, and Amazon Fire TV.