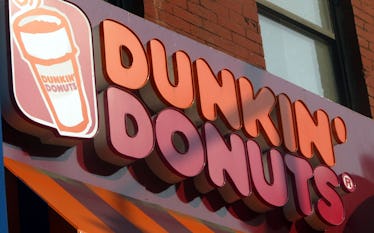 You Can Get $2 Medium Lattes At Dunkin' Donuts If You Go During These Hours
Mario Tama/Getty Images News/Getty Images
Fighting the afternoon slump is never without its challenges, but fortunately there's a treat that'll give you the second wind you need to make it until 5 p.m. Trust us: You're going to want to step away from the office and take a breather. Here's how to get $2 Dunkin' Donuts medium lattes to help you survive the slowest part of the day — even if you thought it wasn't possible.
The fan-favorite chain is certainly looking out for its customers and their wallets with their new Dunkin' Deal. If you take a late lunch between 2 p.m. and 6 p.m., head on over to Dunkin' to snag your $2 medium latte. Not only is Dunkin' anxious to revitalize you after a hectic morning, but it's looking to give you the most bang for your buck. That sounds like a plan to me.
Although the stellar deal will make those afternoon Slack chats with your boss more bearable, you're going to have to mark your calendar. You'll only be able to cash in on these savings until Feb. 25, which is a fairly extensive deal. In the slight chance it warms up between now and that time — hey, we do get some wacky weather every now and then — you might feel inclined to get your latte iced. How's that for a plan? (Even if it's cold, you can still feel free to get your latte iced and take one for the team, you brave soul.)
Let's say you're really wiped. If you had to stay late or work weekends, it might put a damper on your overall mood during the workday. But don't worry, there are other ways Dunkin' plans to help you fight a case of the sleepies. No matter the time of day, two Egg and Cheese Wake-up Wrap sandwiches can be yours for just $2. Again, you have until Feb. 25 to cash in on this exciting pick-me-up offer. Now you can feel refreshed at any time. Say it with me now: Ahhh.
There are plenty of ways to save, and even more new flavors to try this season. In celebration of the new year, Dunkin' is also rolling out new flavors. I can't argue that coffee is my go-to method for a bit more energy, so why not spice up your order by trying a new flavor? Buttery Toffee Nut and Winter White Chocolate have made their debut, and they're just calling your name. Again, for the heroic ones who don't mind a little extra chill, these new flavors are available as hot or iced coffees, lattes, macchiatos, and Frozen Dunkin' Coffee. Act fast because they won't be around forever.
Believe it or not, coffee is not everyone's go-to choice (I know, bizarre, right?). For those who are more inclined to get a cup of tea (and understandable, it is National Hot Tea Month after all), you can enjoy the new Decaf Breakfast hot tea and herbal infusion. Though I'm personally excited to give the White Chocolate a whirl, I do believe that this national holiday should be celebrated accordingly, and this does seem like a good way to do so. Of course, a Chocolate Frosted will go famously with any combination of tea or coffee, so no issue there.
Regardless of what you choose for your afternoon indulgence, Dunkin' is certainly serving up some good stuff. Don't wait until the tail end of February to take advantage. Start cashing in on your $2 lattes ASAP and get ready to crush that afternoon meeting. Cheers!
Check out the entire Gen Why series and other videos on Facebook and the Bustle app across Apple TV, Roku, and Amazon Fire TV.