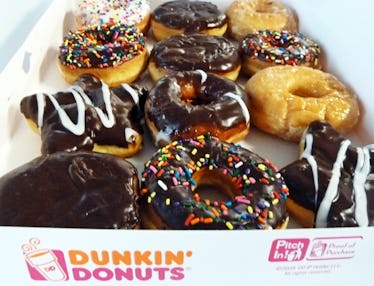 Dunkin' Donuts Is Making A Huge Change To Its Menu And You Might Not Like It
EVA HAMBACH/AFP/Getty Images
Changes are happening at Dunkin', and there's a chance you donut want to hear about the news. In an effort to find its "mojo," the coffee chain has decided to cut back on nearly half of its offerings — an unfathomable concept. Customers are beginning to question what flavors are available at Dunkin' Donuts, and it's causing a bit of deep-fried pandemonium.
However, there's apparently a method to the madness, according to U.S. and Canada brand president, David Hoffmann. "We've shrunk the amount of doughnut variety, and we're seeing a lift in those markets instantly," he told Nation's Restaurant News. A lift, huh? It's kind of difficult to believe this is a likely scenario for doughnut fans, but let's give Hoffmann the benefit of the doubt.
The variety of 30 flavors has been cut down to 18, according to Delish, though it is unclear what offerings did and didn't make the cut. Nationwide, 1,000 locations are giving the revised menu a whirl. Fingers crossed your neighborhood Dunkin' isn't one of the spots that's been selected.
"The test locations will offer a minimum of 18 core donuts with the opportunity to expand based on consumer feedback and regional preferences," a Dunkin' spokesperson told Delish. "We believe this approach will provide a more consistent experience from store to store, and in some cases, will actually increase both the variety and quantity of donuts available to our guests."
Putting flavors on the chomping block doesn't seem to be a solution for fans — especially after the chain unveiled its news about Halloween-themed doughnuts. This is a dagger to everyone's doughnut-loving hearts. It certainly turned into a "Do you want the good news or bad news first?" scenario.
So let's focus on the good news: The Halloween treats are more spooktacular than ever before, largely thanks to the spider doughnut. Eek! "The Spider Donut," you ask? It's creepy, cute, and delicious — sporting orange glaze and itty bitty chocolate legs. The spider itself is a munchkin in the middle of the doughnut hole, so this selection is a win-win.
Not only are the treats getting a spooky makeover, but so are their names. The "Boston Scream" features delectable chocolate icing (with added orange drizzle) with a creamy center. The "Witches Brew Berry" selection is almost too pretty to eat with its gorgeous purple glaze... almost. "Vampire's Delight" jelly doughnut will unleash your inner Dracula and make you want to suck the berry blood. Even "Scary Strawberry" is adding some Halloween pizzazz to its pink exterior thanks to a coating of black and orange sprinkles.
If these descriptions have you pumped for a Dunkin' run, the chain's philanthropic cause will also make you eager to get some sweets. Not only will customers receive Halloween in a box thanks to these seasonal treats, but the chain's Community Cups program is returning for its fifth year. Between bites of "Witches Brew Berry" and sips of pumpkin-flavored coffee, you'll have the opportunity to donate to the Joy In Childhood Foundation, which provides food and other services to children in need. This definitely makes up for the fact that there are potential cuts in the works (even if there's a reason behind those cuts).
Before you get too bummed about the 30-18 switch, remember the fact that there are plenty of new items that'll get you in the fall spirit, like Maple Pecan Coffee. Will this new option dethrone the pumpkin? There's definitely competition, as the Maple Sugar Bacon Breakfast Sandwich begins to make the rounds. But, if you're not one to forgo a pumpkin-flavored snack, add a dollop of Dunkin's pumpkin spice cream cheese to your bagel.
Though the new strategy might have you feeling a bit bummed, remember that it's in its test phase and there are still plenty of other ways to satisfy your sweet tooth. Happy munching.