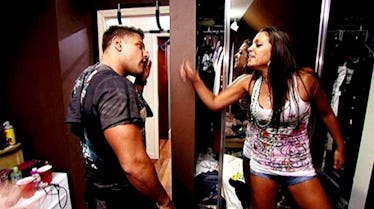 Here's Your Official "Who Wrote The Note?" 'Jersey Shore' Recap
MTV
One of the most iconic fights in Jersey Shore history was revisited on Thursday night's new episode of Jersey Shore Family Vacation, and obviously, it stirred up even more drama. While living up a Sunday fun day by day-clubbing, Ronnie and Vinny noticed some bodypainters and decided to get some ink. Vinny went with the Italian (or possibly Irish?) flag, but Ronnie was clearly ready to start controversy and had the bodypainter write "Who wrote the note?" on his chest. If you're wondering what "Who wrote the note" means in Jersey Shore history, I've got your reminder right here.
Way back in 2010 during the second season of Jersey Shore, Ronnie and Sammi were still at the very beginning of what would become a tumultuous years-long relationship. Although they did stay together for pretty much the entire six-season run of Jersey Shore, Sammi's housemates could immediately tell that Ronnie and Sammi were not exactly the perfect couple. Shortly after his relationship with Sammi began, Ronnie would continue to hook up with other women at the club when Sammi was away, and after observing his cheating for multiple nights, Snooki and JWoww decided it was finally time to let Sammi know what was really going on.
Rather than just tell her in person, Snooki and JWoww gave us reality television gold by composing an anonymous note detailing Ronnie's exploits, which they left on Sammi's bed to find.
Of course, the letter resulted in a massive blowout between Sammi and just about everyone in the house. Not only did she confront Ronnie about his cheating, but she also got into a huge fight with Snooki and JWoww after deducing that they must have been the not-so-mysterious authors of the letter.
Although Sammi and Ronnie broke up as a result of that note, they got together again before the end of the season and continued to give us some of the most intense relationship drama on television for the rest of the show's run.
It was because of this controversy that Snooki and JWoww got upset when Ronnie reignited the note situation on the latest episode of Jersey Shore Family Vacation. After Ronnie returned to the group with "Who wrote the note" emblazoned on his chest, JWoww and Snooki went off. Clearly, they had no problem admitting to writing the note now, but they were also confused about why Ronnie would want to bring up the drama the led to his first breakup from Sammi again.
The Jersey Shore cast is definitely comfortable laughing about that note drama now — it happened almost a decade ago, after all. You can even see them joking about it in a dramatic reading for MTV's YouTube page:
The real confusion that Snooki and JWoww expressed over Ronnie bringing up the note again was why he does not seem to have let it go. It is definitely possible that Ronnie was just trying to make good TV for us by reminding everyone of one of Jersey Shore's most iconic moments, but Snooki seems to think that it might be a sign that he is still hung up on Sammi and not ready to settle down with his pregnant girlfriend.
Snooki isn't the first Family Vacation cast member to voice concern over Ronnie's possibly lingering feelings for Sammi — earlier in the episode, Pauly D said something similar after witnessing an awkward, stilted conversation between Ronnie and his girlfriend, and Deena voiced a similar concern in the premiere after Ronnie expressed his anger over Sammi refusing to do the reunion series. Perhaps another anonymous note is in order?