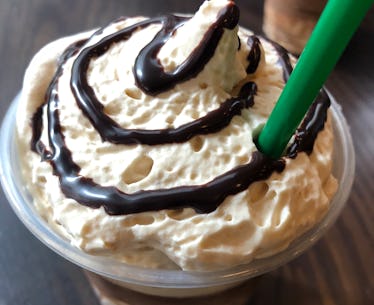 Starbucks' Sweet Cold Brew Whipped Cream Tastes Like Coffee & I Love It
Starbucks
OK, coffee lovers: Just when you thought your favorite Starbucks drink could not get any better, the coffee company introduced a drink topper that you're sure to love. That's right, your morning dose of caffeine is about to be on whole new level. Starbucks unveiled their latest and greatest drink topping: Sweet Cold Brew Whipped Cream. The coffee giant recently announced the news, and I'm here to say that it is just as delicious as it sounds. Before you order up your next caffeinated beverage, here is what Starbucks Sweet Cold Brew Whipped Cream tastes like.
The Sweet Cold Brew Whipped Cream is available at participating Starbucks locations throughout the United States and Canada starting on Tuesday, May 1. The whipped topping is a truly appetizing combination of cold brew coffee, dark caramel sauce, and white chocolate mocha sauce. If I'm being honest, those are some of my three favorite flavors, so this is really shaping up to be quite the heavenly topping. The deep richness of cold brew coffee flavor, married with the flavors of sweet, sugary caramel sauce, and fudge-like white chocolate mocha goodness has me feeling like I am living in a coffee dream world. I can't believe someone turned this into a pile of pillowy, edible fluff. Color me impressed. What could be better than topping your coffee with more coffee? I mean, really. If you want to try the Sweet Cold Brew Whipped Cream, head to your local Starbucks and add it to any drink you'd like for an extra 50 cents.
This isn't the first time Starbucks has fancied up their aerated drink garnishes. Not so long ago, the Crystal Ball Frappuccino was on the menu and featured a peach-flavored whipped cream finished off with rock candy. Or, who could forget the coveted Pumpkin Spice Latte topped with PSL-flavored whipped cream? Both are totally delicious toppings, but truth be told, they don't quite seem like they would pair well with my regular coffee order like the Sweet Cold Brew Whipped Cream would. And yes, I'm planning to ask for it on just about every drink order I place. Watch me.
In other coffee-related news, Starbucks also announced on Tuesday, May 1 the release of two new Frappuccinos: the Ultra Caramel Frappuccino and the Triple Mocha Frappuccino. Unlike some of their latest icy-blended beverages (looking at you Crystal Ball Frappuccino), these two items are taking up permanent residence on Starbucks menus across the country — and just in time for the warm summer temps. These frozen coffee refreshments will transport your tastebuds to the next level with their extra rich texture and sweet layers of robust caramel and mocha flavors. So take a deep breath, because these blended beverages are here to stay (and make your day that much sweeter).
Luckily, the Ultra Caramel Frappuccino and the Triple Mocha Frappuccino will be topped off with the Sweet Cold Brew Whipped Cream. In fact, both drinks are layered with the cold brew-flavored whipped cream, so make sure you try them. Each drink is also topped off with the Sweet Cold Brew Whipped Cream, so be prepared for a sweet twist on your new favorite frappuccinos. I can't wait to give them a try.
Oh, and one more thing: If you're not already a member of the Starbucks Rewards loyalty program, now might be a good time to join. Download the app to your iOS or Android device to receive the latest Starbucks news and drink deals, including more information on their beloved Happy Hour promotion. Perhaps these new additions might even make their way into the afternoon discount plans.