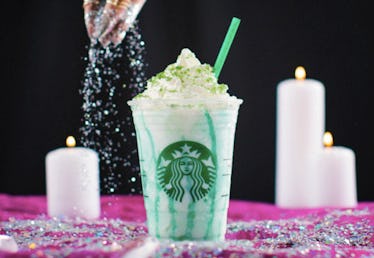 Get Starbucks' New Frappuccino While You Can, Because Its Future Isn't Bright
Starbucks
If you predicted that a new Starbucks drink would hit the stores this week, you were correct! Congratulations, you must be psychic. (Or, maybe you just saw all of the rumors swirling around the internet a few days before the big release.) Either way, Starbucks unveiled a magical new beverage called the Crystal Ball Frappuccino, available on March 22, and I can definitely see myself sipping on one in the future. However, it looks like I'll have to act fast, because Starbucks' Crystal Ball Frappuccino won't be available for long.
That's right: The future for the new drink isn't looking too bright. According to Starbucks, the Crystal Ball Frappuccino will only be available for four days while supplies last (from March 22 to March 26). That's not very long at all, which means you'll have to give Starbucks a visit as soon as you can if you want to try it. *Sigh.*
Even though it's a bummer for customers that it won't be around for long, it's probably a relief for baristas. As soon as word got out about the Crystal Ball Frappuccino, Starbucks employees voiced their opinions on social media and began dreading the idea of making it. Hey, if this turns out to be anything like the Unicorn Frappuccino craze in April 2017, I don't blame them.
So, why is making the drink such a process? Apparently, there's a few key steps and ingredients that make the Crystal Ball Frappuccino so special. According to Starbucks, the new frappuccino is made with a crème peach-flavored base (yum). Then, the base is mixed with a turquoise swirl, which definitely adds to the elusive "crystal ball" vibes. Of course, the drink is topped with whipped cream, and then sprinkled with rock-candy crystals. The rock-candy crystals come in three colors, and each one has an adorable meaning: blue is for adventure, green is for good luck, and purple is for magic, wonder, and enchantment. The exciting part about ordering one is that customers don't know which color crystals they'll get!
Based off a tweet that leaked the apparent recipe for the Crystal Ball Frappuccino, making the "Gem Drizzle" — which makes the drink so Insta-worthy — is a tedious process. Apparently, Starbucks employees have to pump three pumps of White Chocolate Mocha sauce into the drizzle bottle, pump three pumps of Frappuccino Crème Base into the drizzle bottle, and then swirl it around. TBH, doing this for each and every Crystal Ball Frappuccino sounds exhausting. However, the outcome is gorgeous — and we have our beloved baristas to thank.
Again, I can totally predict that my future will involve sipping on one of these beauts and taking some photos of it for the 'gram. I mean, how could you not? It's gorgeous. In fact, I think it's even prettier the Unicorn Frappuccino. Sure, my favorite color is turquoise and I'm pretty into crystals right now, so I might be a little biased. I'm just trying to say that I have a deeper connection with this drink, and that I'll definitely be on line at Starbucks ordering one before it's taken off the menu.
As you can see, Starbucks' Crystal Ball Frappuccino is just as magical as it sounds. The only thing that's not-so-magical about it is that it's only available for four freaking days, ugh. Since the new drink is only available for such a limited time, you'll have to head to Starbucks immediately in order to give it a try before the ingredients run out.
Whether you run to Starbucks or wait until the last minute to give it a try, I definitely see a Crystal Ball Frappuccino in your future.