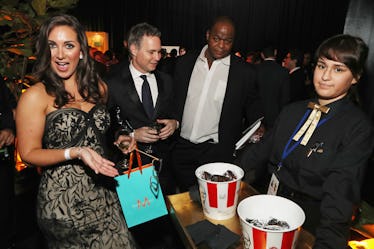 This Is What's On The Menu For Celebs At The Golden Globes & Our Mouths Are Watering
Randy Shropshire/Getty Images Entertainment/Getty Images
There's nothing that intrigues me more about award shows than what the honorees are served for dinner, and what they all take home in their goody bags. Sure, the awards are great and all, but as a self-proclaimed foodie, I make it my business to know how my favorite celebs wine and dine, which is why I've done some digging to figure out what celebrities eat at the Golden Globes. The answer? Anything that sounds ultra fancy and tastes rich (decadently, and monetarily speaking, of course).
If I'm even going to bother watching the award ceremony at all, my dinner will likely consist of boxed pizza, French fries with extra honey mustard, and a tall glass of wine. What? It's a party, right?
A-listers seated at a round table adorned with tablecloth and fine china, however, are served a luxurious three-course meal fit for a televised broadcast (though, interestingly enough, the camera never catches Meryl Streep or Hugh Jackson mid-chew).
Considering these men and women are dressed to the nines in designer pieces and have their makeup done by renowned artists, I often wonder if these award-winning stars actually get an opportunity to indulge, let alone lick their plates clean. For their sake, though, I really hope their lipstick is super smudge-proof and their outfits are not entirely restricting, because this year's menu sounds quite divine, if I do say so myself. My mouth is beginning to water just thinking about it.
The 75th annual Golden Globes menu almost looks too good to eat.
Imagine a five-star restaurant's most expensive delicacies. Now multiply that fantasy meal by 10, and you're looking at this year's dinner menu for the 75th annual Golden Globes, which does, indeed, include dessert and cocktails for toasting. Hey, James Franco, if you're reading this and flying solo, I'm free that night (wink).
But in all seriousness though, if I could dream up the perfect dinner date for me and my husband, this would be it. To start off the night, guests won't be served the average cold salad comprised of butter lettuce and chunks of tomato unnecessarily doused in balsamic vinaigrette. This is The Beverly Hilton we're talking about here, and in a press release sent to Elite Daily, it was revealed that executive chef Alberico Nunziata's veggie dish, referred to as the "Delicata," will feature bites of fresh opal basil, teardrop tomatoes, Taggiasca olives, golden frisee, garlic flowers, roasted butternut squash (oh so seasonal), and purple sweet potatoes for a touch of aesthetic.
Are you drooling yet? Keep it in check, friend, because that sweet harmonization of greens and colorful veggies is just the appetizer. The main entrée is bound to have you hating on every microwaveable bowl of ramen you've ever eaten, because these types of foods only exist for the glamorous lives lived only by the other half. Of course, you could always, you know, buy a cookbook and take a few classes, but who has time for that IRL? Sigh, I digress.
Unlike fancy-shmancy Italian restaurants that stuff you with salad, bread, and a heaping serving of pasta before you even get to the main course, Nunziata is skipping straight to dinner after his signature vegetable medley so the celebs aren't too full to enjoy their meal. Dinner will include a juicy Mediterranean Chilean sea-bass paired with broccolini florets, baby beets, yellow squash, and zucchini, atop a flavorful, red beet risotto.
To end the night on a sweet note, each honoree will be served a decadent dessert.
Win or lose, every stomach is going home happy after the sweet treat that executive pastry chef Thomas Henzi is serving up this year. If just the sight of this culinary masterpiece makes my stomach growl, I can only imagine the foodgasmic sensation that must come with every bite. After all, no party is complete without dessert — at least, no party I want to go to.
Obviously, Henzi is going above and beyond a simple piece of sheet cake to celebrate the Golden Globe's momentous year, so prepare your taste buds. The epitome of decadence photographed above is called the "Efendi," and it's a white chocolate coffee cream with a coffee liqueur biscuit, Frangelico mascarpone, and is served complete with crunchy praline. My sweet tooth is straight-up ravenous as I type this right now. Yum.
Of course, celebrating doesn't necessarily translate to cake and candles. Cocktails will also be served throughout the night, starting with a toast to 75 years of success with Moët & Chandon Impérial minis, Moët & Chandon Grand Vintage 2006, and Moet Rosé Impérial magnums. The French fine winery will also debut its official cocktail of the year, created by The Gifted actress Jamie Chung.
Trophies, food, booze, and melt-in-your-mouth desserts? The 75th Annual Golden Globes, which will air on Jan. 7, is turning out to be quite the night. Forget starstruck, my taste buds are reeling. How do I get on the guest list? Someone make it happen, please.