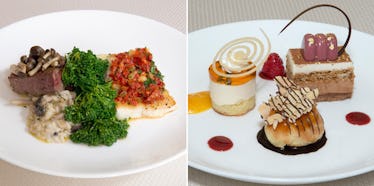 The Food Being Served At The Golden Globes Is Seriously Mouthwatering
Beverly Hilton
I could give two Christmas morning turds who wins this year at the Golden Globes.
All I really care about is what Chris Pratt will be eating on Sunday night and if there will be cake for dessert.
Italian Chef Alberico Nunziata is the man responsible for feeding nominees at the Golden Globes this year.
The sixth most important award show (the ranking is Oscars, Emmys, Grammys, Teen Choice Awards, Tonys, Golden Globes, by the way) isn't just going to throw its stars some Wacky Mac for dinner at the event, and we've got an inside look at what Anna Kendrick, Viola Davis and Viola Davis' husband are going to be throwing down their gullet come show time.
1. Surf and Turf Entree
The dish consists of Chilean sea bass and filet mignon. It's paired with with risotto, wild mushrooms and broccolini, which is broccoli with a growth spurt.
2. Golden Salad
This is just a straight-up plate o' fancy veggies. In the dish, you have herb-roasted golden and red beets, arugula, watermelon radish, grapefruit, crumbled goat cheese and roasted pistachios topped with ceviche lime dressing.
3. Dessert Sampler Plate
To cap off the meal, those attending the Globes get a plate with a piece of Neapolitan almond cake with orange mascarpone cream, chocolate crunch bars and a cream puff with amaretto vanilla cream with crunchy sugared almonds and chocolate sauce.
Feeding a room full of Hollywood's brightest stars and Jimmy Fallon (laziest burn of all time) is an insane undertaking.
According to Chef Nunziata, the Golden Globes food crew ships in 400 pounds of steak filets, 800 pounds of fish and 4,000 pounds of fruit and veggies to serve the 11,000 meals at the party.
In case anyone is wondering, here is my menu for the Golden Globes:
1. Old bag of Doritos that was opened around the time of the "WestWorld" premiere and has been sitting in my cupboard with a loose rubber band across the top.
2. Queso I stole from my roommates that has just gone over the sell-by date, but is still good.
3. A doughnut I bought from a bodega that also sells air conditioners for some reason.
The 74th Annual Golden Globes will air on NBC on Sunday, January 8 at 8 pm EST.
Citations: Noms for Nominees What Celebs Eat at the Globes (NBC)