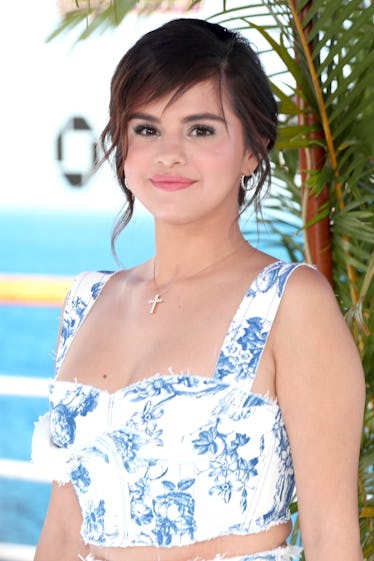 This Star Just Claimed Selena Gomez's Spot As Instagram's Most-Followed Celebrity
Christopher Polk/Getty Images Entertainment/Getty Images
In a world so obsessed with social media, being the most followed on any social platform seems like a really big deal. Up until now, the title of the most-followed celebrity on Instagram has gone to Selena Gomez, who not only boasts a robust social media following but also strives to encourage people to take breaks from their Instagram feeds. But now there's a new celebrity who's the most followed on Insta. So, who has the most followers on Instagram? Well, soccer player Cristiano Ronaldo literally just bumped Gomez off the top of the list.
According to E! News, Ronaldo's follower count is right around 144,320,746 while Gomez is right behind him with 144,312,745 followers. Gomez is trailing him by what could be considered a handful of followers to celebs (#cantrelate), so she could snag the top spot at any time.
While Gomez held the title of the most-followed celeb on Instagram for quite a while, it's doubtful that she'd care very much about being bumped from the top by a soccer player. Gomez has frequently been outspoken about keeping society's obsession with social media in check.
In a March 2017 interview with Vogue, Gomez opened up about the pressure of being the most-followed person on Instagram and how heavily it weighed on her.
"As soon as I became the most followed person on Instagram, I sort of freaked out," Gomez told Vogue. "It had become so consuming to me. It's what I woke up to and went to sleep to. I was an addict, and it felt like I was seeing things I didn't want to see, like it was putting things in my head that I didn't want to care about. I always end up feeling like sh*t when I look at Instagram. Which is why I'm kind of under the radar, ghosting it a bit."
Then, in an Interview with Billboard in December 2017, Gomez talked about why she absolutely needs to take breaks from social media.
"I love Kevin [Systrom], the creator of Instagram, and he has gotten mad at me in the past when I was like, 'I have to take a break from it.' But removing myself was about spending time with things that matter," Gomez explained. "I've been hanging out with an old friend, and basically every conversation, we want it to be intentional. Meaningful conversations remind you that it's all within where we are. It's not about what's happening with everything else."
Here's who now has the most followers on Instagram:
In recent days, Gomez announced that she was taking a much-needed break from social media, which likely prompted the shift in Instagram follower rankings in Ronaldo's favor. But that's OK, because Gomez is doing what she needs to do right now to take care of herself.
"Taking a social media break. Again," she wrote in an Instagram post from Sept. 23. "As much as I am grateful for the voice that social media gives each of us, I am equally grateful to be able to step back and live my life present to the moment I have been given. Kindness and encouragement only for a bit! Just remember- negative comments can hurt anybody's feelings. Obvi."
Just weeks later, on Oct. 11, reports surfaced that Gomez was seeking mental health treatment after being hospitalized. Elite Daily reached out to Gomez's team for comment on the reports at the time, but did not hear back by the time of publication. So, taking a break from social media over the last month or seems like it was definitely a necessary step for the star.
Given all that Gomez has on her plate right now, I suppose it's a good thing that Ronaldo has taken over the Instagram throne. I guess the world will have to wait and see how long he holds on to it!