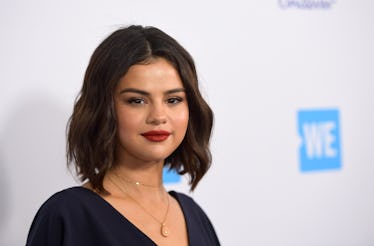 Selena Gomez Reportedly Entered A Treatment Facility For Her Mental Health
Matt Winkelmeyer/Getty Images Entertainment/Getty Images
Singer Selena Gomez is reportedly seeking mental health treatment, according to multiple reports. After a reported "emotional breakdown," Selena Gomez reportedly entered a treatment facility to "help address ongoing issues related to anxiety and depression," according to E! News. Elite Daily reached out to Gomez's team for confirmation of her mental health status, and to confirm she's seeking treatment in a health facility, but did not hear back by the time of publication.
According to TMZ, who was first to break the story, Gomez allegedly had an "apparent emotional breakdown" after two reported hospitalizations where sources say she received treatment for a low white blood cell count at Cedars-Sinai Medical Center in L.A., seemingly related to her lupus and her kidney transplant from last year. A source told the site that Gomez is currently at "an East Coast psychiatric facility and is receiving dialectical behavior therapy — DBT. The therapy treats various mental health disorders. Selena has received DBT in the past."
We should be praising Selena Gomez for reportedly taking control of her own mental health. It is beyond powerful to seek the treatment and help that you need, and the "Back To You" singer is showing just how brave she truly is by taking these measures.
According to E! News, an inside source said,
Selena has been trying really hard recently to remain focused, and not let her health affect her. She has been actively writing new music, and moved to Orange County for a change of pace and a fresh breath of air. Ultimately, with all of her arising health issues, Selena started to feel super overwhelmed.
The source continued, saying, "She had a difficult year, especially towards the end, and she decided she wanted to spend some time focusing on herself. It was all about wellness and her health."
This news all comes in the wake of the singer's announcement that she will be taking a break from social media to "step back" and focus on "the present." Before her hiatus, though, she took to Instagram Live in September to speak openly with fans about her depression, telling them, "Every time I try to do something right, every time I try to do something good, I felt like people were picking me apart."
But Gomez has been incredibly honest about her depression in the past as well. Gracing the cover of the March 2018 of Harper's Bazaar, Gomez revealed that her anxiety and depression are a day-to-day battle for her. She told the magazine,
I've had a lot of issues with depression and anxiety, and I've been very vocal about it, but it's not something I feel I'll ever overcome. There won't be a day when I'm like, 'Here I am in a pretty dress—I won!' I think it's a battle I'm gonna have to face for the rest of my life, and I'm OK with that because I know that I'm choosing myself over anything else.
Sending good energy and love to Selena Gomez as she continues to heal.