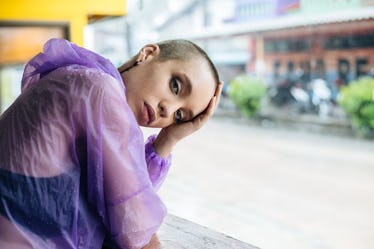 9 People Get Real About Breaking Up With Their Forever Person
There's no doubt that finding "The One" is incredibly exciting and elating — not to mention reassuring if you've been looking for them for a while to no avail. So, naturally, finding out that who you thought was "The One" actually wasn't right for you after all can be straight-up soul crushing. Breaking up with the person you thought you'd be with forever with definitely isn't easy by any means. But in some instances, it's a step that while painful in the short term, is essential to ensure your long-term happiness.
There are lots of valid reasons why you may have to kiss your almost soulmate goodbye, too. Sometimes, you and your partner change so much that you're no longer compatible. Sometimes, the emotional fallout from infidelity or another betrayal proves too difficult to overcome. Sometimes, it's a practical issue — like distance or a difference in beliefs or values — that gets in the way of your happy ending.
While it may be painful to end the relationship that you thought would be your last, many have done it. Here's what a handful had to say about breaking up with the person they thought was "The One" — why they did it, and how they were able to cope in the aftermath.