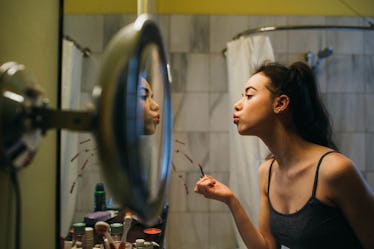 14 Brutally Honest Phases Of Going On A First Date That Every Woman Will Recognize
My most recent first date was with a guy I met in a group setting. He was a friend of a friend's boyfriend's roommate, or something like that. We hit it off, he asked for my number, and he later texted me asking about my weekend plans. This might sound perfectly normal to you, but before him, I can't remember the last time I met a potential romantic interest organically and not on a dating app. For me, first dates usually also involve meeting said date for the first time. The truth of what a first date is really like — from the lengthy process of getting ready, to figuring out who should pay the bill at the end of the night — isn't always glamorous. Take it from a dating writer: You never really get over the stress that comes with a first date... even when studying and analyzing everything there is to know about dating is basically your job.
So whether you just had your first-ever real date or you consider yourself a serial first dater, you'll definitely relate to these 14 brutally honest phases of going on a first date. As for my solution? Have a glass of wine, enlist the help of your best friend, and embrace the inevitable awkwardness. Remember, eventually, one of these experiences will be your last first date. Dating might not always feel like a fairy tale, but you can still go into every situation believing that your happy ending awaits.