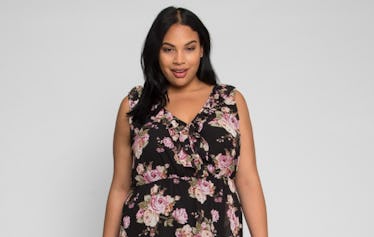 Wet Seal Just Re-Launched Their Plus & Curve Collection & It's Affordable AF
In today's exciting fashion news, your favorite mid-aughts clothing brand just re-launched its size inclusive offerings and the pieces are cuter (and more affordable!) than ever. Wet Seal's Plus & Curve collection is back with an all-new selection of styles including sportswear, sleepwear, and athletic wear, most of which come in sizes XL to 3XL. The best part? Everything within the collection retails for under $50. A happy day, indeed.
At the beginning of 2017, Wet Seal announced they'd be closing all of their physical retail stores, much to the chagrin of anyone born from 1990 onwards. As a teen, the store was my shopping mecca; I think 80 percent of my wardrobe came from Wet Seal and Limited Too for a good three years. Along with their store closings, Wet Seal also deactivated their website. But then, last November, the brand came back with an exciting bang in the form of an e-commerce-only store. Their trendy and affordable styles were back on the market to the delight of fans worldwide. But one thing was missing: their once much-loved size-inclusive offerings.
Last week, on July 19, Wet Seal (finally) dropped a Plus & Curve collection on their website, which naturally elicited much excitement from fans online. Featuring nearly 200 items, it's a jackpot where you can score cool styles for literally any occasion. Check out some of the best below and shop the collection in its entirety here.
LBD
From its sweetheart neckline to its off-the-shoulder neckline, this little black dress has got a whole lot of sexy goodness going on. A midi hem finishes it off.
Break A Sweat
The ultimate trendy workout top, this mesh long-sleeve shirt could just as easily be worn out at night as it could to the gym thanks to its gathered sleeve detail and cropped silhouette.
Ruffled Edges
Another knockout dress, this sunny yellow option features an off-the-shoulder neckline and long sleeves. Spaghetti straps add a flirty and practical design detail, while ruffles along the hemline and sleeves add a touch of playfulness.
Flower Child
This top features all of the best boho-inspired design elements, from a ditsy floral pattern to fluttery sleeves to a tassel drawstring.
Bombers Away
Get a head start on your fall wardrobe with this silky navy bomber. It pairs just as well with jeans and a tee as it does a flowy floral dress, meaning it boasts optimal wearability.
Easy, Breezy
For those days when you need something fresh and easy to throw on with your favorite denim there's this cute white off-the-shoulder top.
One For The Books
I love a good romper simply for the fact that it makes choosing an outfit a breeze. This navy blue option features a button-up front, waist draw string, and relaxed fit, and would look stellar with white sneakers or black sandals like.
Star Quality
Wear it with a black bralette for a hot night out, or make it work-appropriate by layering it over a solid black tank top. No matter how you wear this star spangled shirt you're bound to look out of this world.
Roses Are Red
Because everyone needs a pair of super comfy and bright floral shorts in their summer wardrobe. These pair excellently with a white tee and red lips but can also be easily dressed up.
Suits Me
Bodysuits are the ultimate festival (and everyday) wear for the fact that they're comfy, sleek, and won't come untucked. This halter top iteration features a floral print and deep V neckline and would pair excellently with both denim and more formal skirts.