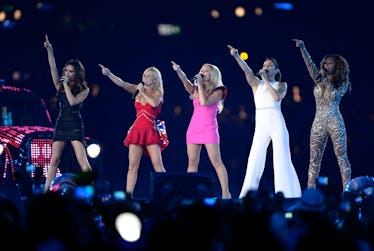 Only One Of The Spice Girls Showed Up At The Royal Wedding & No, She Didn't Sing
Pascal Le Segretain/Getty Images Sport/Getty Images
Meghan Markle and Prince Harry's royal wedding definitely had a star studded list of guests in attendance. But there is no group of guests more important than the premier girl group of all time: The Spice Girls. Right now, you might be wondering, "Were the Spice Girls at the royal wedding?" Despite multiple rumors that the singers would show up, it turns out that only one of them made an appearance.
In the days leading up to the royal wedding, it was rumored that all five of the Spice Girls would be in attendance at the nuptials, according to Us Weekly. Mel B, Victoria Beckham, Emma Bunton, Melanie C, and Geri Halliwell reportedly all RSVP'ed "yes," although it wasn't clear if they'd arrive as a group or individually. However, a recent report from Page Six states that only three of them were invited. A sources told the publication, "Only Victoria, Emma and Geri were invited, so clearly, the Spice Girls were never going to perform." That's, um, awkward. Apparently, Mel C and Mel B never even got an invite. I suppose a royal reunion was never meant to be, after all.
Even so, Victoria Beckham and her husband, David Beckham, did attend the royal wedding. Apparently, they were on the guest list the entire time, along with Geri Halliwell and Emma Bunton. (It appears Halliwell and Bunton did not attend the big day.)
When viewers watching the event live actually saw that the five gals weren't together again to celebrate Markle and Price Harry tying the knot, everyone got a little bummed out.
It turns out that people actually thought Sarah Ferguson was Geri Halliwell, and that probably got a few hopes up.
I know that this lack-of appearance from the Spice Girls at the royal wedding doesn't actually mean all that much. But my imagination tells me otherwise, and I'm still speculating that the world could be on the verge of seeing a Spice Girls reunion world tour in the next year or two — or three. I don't care how long it takes, as long as it happens.
Rumors have been swirling that a possible Spice Girls reunion is in the works, which is everything that my seven-year-old self needs in this life. The chance to see the Spice Girls back at it in an arena tour would definitely be a dream come true for millennial women everywhere.
The rumors erupted after Victoria Beckham (aka Posh Spice) posted an Instagram pic of the five spice gals back together on Feb. 2 of this year. The caption on the photo read, "Love my girls!!! So many kisses!!! X Exciting x #friendshipneverends #girlpower"
OK, pause. What exactly is the word "exciting" referring to here Posh?! Exciting, like how EXCITING it'd be to embark on a tour again with your girls?!
The Spice Girls also released a statement on the same day the picture was posted which touched on the possibility of a full-blown reunion. The very promising statement read in part,
We are always overwhelmed at how much interest there is across the whole world for The Spice Girls... The time now feels right to explore some incredible new opportunities together. We all agree that there are many exciting possibilities that will once again embrace the original essence of The Spice Girls, while reinforcing our message of female empowerment for future generations.
Since then, there hasn't been any new significant news regarding the likelihood of a reunion tour. But the fact that the entire group didn't show up at the royal wedding definitely puts a damper on things. Are the Spices just teasing us, or is this a genius publicity tactic that will get everybody wondering "will they, won't they?"