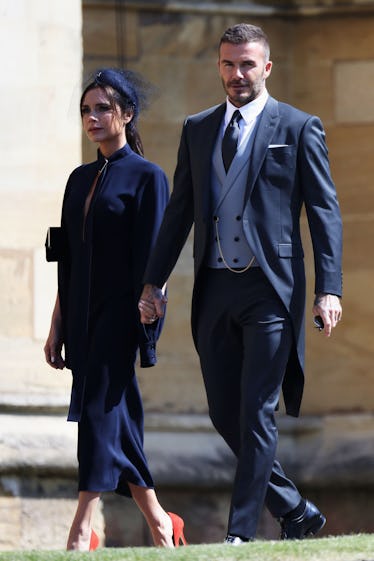 Victoria & David Beckham Are At The Royal Wedding & They're Serious Couple Goals
Chris Jackson/Getty Images Entertainment/Getty Images
Guys, I know the royal wedding is all about the prince and princess-to-be, but right now, there's another couple I simply cannot stop swooning over. I'll give you a hint: They're spice-y AF. If you caught on to my sad attempt at a Spice Girls reference there, you're probably as pumped as I am to see Victoria and David Beckham at the royal wedding because, real talk, they look sexy and classy as hell (as always).
Honestly, I've always been a major fan girl of this wildly successful power couple, and initially, I was kind of worried they weren't going to make an appearance at Meghan Markle and Prince Harry's big day. After all, back in April, on The Late Late Show with James Corden, Corden asked Victoria if she was invited to the royal wedding, and the 44-year-old celeb couldn't quite seem to keep her poker face while stuttering something along the lines of "I, uh, I don't know." Corden immediately called her out, exclaiming, "You're totally going! That was the biggest yes I've ever heard in my life!" And, well, the man was right, because here we are.
It's no secret that Meghan Markle loves Beckham, so of course she came to the wedding.
According to The Guardian, in Markle's engagement photos, she was wearing a sweater from Beckham's collection, which was what originally sparked the now-debunked rumors that she might design the royal wedding dress. But the former Suits star doesn't just enjoy wearing cozy pieces designed by Beckham; Meghan Markle's favorite lipstick, according to Marie Claire, is apparently the Charlotte Tilbury Matte Revolution in the shade "Very Victoria" — which just so happens to have been created and named after none other than Victoria Beckham herself. Who wants to bet Markle's wearing that exact shade on her lips right now on her special day? Who knows, it could be a nod to her favorite Spice Girl!
Clothing and makeup aside, though, Victoria and David Beckham's relationship with Meghan Markle and Prince Harry has always been pretty cozy and cordial. In an interview with Esquire back in 2012, David said he's "good mates" with both Prince Harry and his brother, Prince William, which is such an adorably British way to refer to your friends, if you ask me. I dream about the day someone might call me their "good mate." Sigh.
Oh, and in case you were wondering, this isn't David and Victoria's first royal rodeo.
According to Harper's Bazaar, the Beckhams attended Prince William and Kate Middleton's wedding back in 2011. The outlet reports they were invited after the two men had gotten to know each other more while working together on the bid for the 2018 Football World Cup. Soon after that, they became "good mates," and, well, the rest is royal history. To say the least, Victoria and David Beckham are super tight with the British royals, and it explains why they're at the wedding.
Look, even though there are currently over 2,000 people at this historic wedding, my eye is still always drawn to this stunning power couple, and I kind of get way too excited every time the camera pans over to reveal just how amazing they look on this special day. Victoria's sleek all-navy getup is too perfect and I mean, how can you not low key gawk over David Beckham in a suit?
If this is how I'm reacting to Victoria and David Beckham at the royal wedding, I can't even imagine what a hyperventilating mess I'm going to be once I see Markle walk out in her wedding dress. Pray for me, guys.