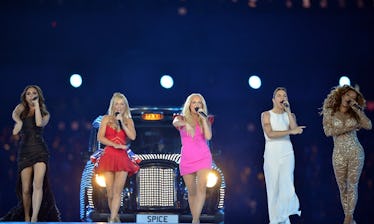 The Spice Girls Are Attending The Royal Wedding & Now I Really "Wannabe" There
JEFF J MITCHELL/GETTY IMAGES SPORT/GETTY IMAGES
If you wannabe my lover, you gotta help me finesse my way into the royal wedding — because it's clearly going to be an unforgettable event, and I need to be there. According to new reports, the Spice Girls will attend the royal wedding, and OMG, this news is spicing up my life. (As if the wedding wasn't already set up to be epic enough?!)
I can't even begin to tell you guys how exciting this is, especially considering the Spice Girls have been teasing at a reunion for what seems like ages. Back in February 2018, Victoria Beckham shared a photo to her Instagram of all of the Spice Girls together, which left many fans speculating on whether or not the '90s girl group would get back together. While the answer to that has been a back-and-forth issue, it's looks like they'll at least be attending the wedding together. And yes, you read that correctly: Victoria Beckham, Mel B, Emma Bunton, Melanie C, and Geri Halliwell are all expected to attend the royal wedding on Saturday, May 19, according to Us Weekly.
While I definitely would have been in front of my television in my sparkly bell bottoms and cropped T-shirt jamming along to "Spice Up Your Life" if they performed at the wedding (no shame), their appearance alone is better than nothing, if you ask me.
Rumors that the group would attend Prince Harry and Meghan Markle's wedding first swirled in February 2018, when Mel B implied that she and her former band mates were not only attending, but would be performing at the royal event, during an interview on the daytime talk show, The Real. When questioned about a possible reunion at the wedding, Mel B threw her hands in the air and exclaimed, "I need to go, I am gonna be fired!" (IDK about you, but that absolutely sounds like a major hint to me.)
But the Spice Girls didn't appear to be on the same page, as Melanie C later shot down the rumors of a group invite performance. When Prince Charles quizzed her about the set in March, she bluntly replied, "I think she was joking," according to The Daily Mail. Perhaps it was for the best, though, because royal expert Katie Nicholl told Entertainment Tonight that if the Spice Girls performed at the wedding, the Queen would unlikely be dancing along to their songs.
To each her own.
The group did, however, hint that they were about to give their fans what they want, what they really, really want after releasing a statement about how the time feels right to "explore some incredible new opportunities together."
"We have enjoyed a wonderful afternoon catching up and reminiscing about the amazing times we have spent together. We are always overwhelmed at how much interest there is across the whole world for the Spice Girls," the statement read. "The time now feels right to explore some incredible new opportunities together. We all agree that there are many exciting possibilities that will once again embrace the original essence of the Spice Girls, while reinforcing our message of female empowerment for future generations."
But then, in an interview with Vogue, Beckham opened up about the reunion rumors and it didn't sound too promising. She reportedly told the publication, "I'm not going on tour. The girls aren't going on tour."
What kind of torture is this???
I'm not sure where the future of the Spice Girls lies, but I'm gonna assume that maybe — just maybe — their appearance at the wedding is the first step of something big. That's what I really, really want.