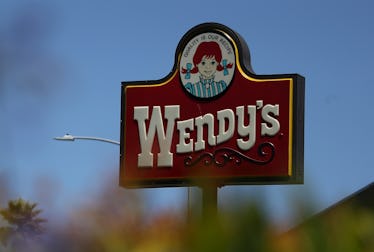 Wendy's Just Burned McDonald's On Twitter & Even Celebs Are Lovin' It
Justin Sullivan/Getty Images News/Getty Images
Usually Black Friday is reserved for snagging killer deals on holiday presents or recovering from a day of eating all the things on Thanksgiving. Even though food might be the last thing on your mind after yesterday's feast, you'll want to tune in to what this fast-food chain is tweeting about — seriously. Wendy's tweet about McDonald's is so cold, and Twitter is loving it.
So, this whole thing started out innocently enough when McDonald's tried tweeting out a Black Friday tweet from the @McDonaldsCorp Twitter account in the wee morning hours of Friday, Nov. 24. Unfortunately, there was snafu, and McDonald's wound up tweeting the words, "Need copy and link" where the actual link for a Black Friday tweet was supposed to go. The eagle-eyed Wendy's Twitter account pounced on the perfect opportunity drag McDonald's for all of Twitter to see.
Wendy's decided to add the comment, "When the tweets are as broken as the ice cream machine," (damn, Wendy's!) when they retweeted the McDonald's tweet on Friday, Nov. 24. Naturally, Twitter was very much here for this fast-food drama. McDonald's ice cream machines have been out-of-order more often than not lately, and customers have noticed, according to Business Insider.
Here is the original McDonald's tweet.
And here is Wendy's savage response.
Expectant mother Chrissy Teigen (and expert tweeter) took notice of Wendy's harsh words, calling them "cold."
Wendy's immediately recognized what an honor it is to be noticed by Teigen, queen of Twitter.
Wendy's didn't stop at just one expert tweet burn, though.
Keeping with the chilly theme, this user pointed out that not only was Wendy's being cold, they were "frosty AF."
Get it? Frosty, like the drink. You don't have to laugh.. .in fact, judgment will be reserved for those who do (slight chuckles are acceptable).
In response to a Twitter user suggesting that Wendy's had #nochill, the fast-food chain explained they had plenty of chill in their Frosty.
OK, I guess if Wendy's says puns are fair game, then puns are cool again.
This was Wendy's response when someone inquired about what their own Black Friday deals were.
I'd like to point out that Wendy's responded within a minute, so be prepared because Wendy's is coming in hot.
People were living for the savagery coming from the Wendy's Twitter account.
Like, people were really loving this fast-food fight.
Sorry, the puns are here and they're just not going away.
Others couldn't even handle what was happening. A break was very necessary.
Recognition of Wendy's tweet-burn prowess was given in the form of a Michael Scott GIF, naturally.
Apparently, Wendy's is the Twitter hero we need in 2017.
And sometimes, they do wear capes.
"Funsies, indeed."
While Wendy's definitely proved themselves to be tweet-burn pros, McDonald's actually managed to recover from their Twitter miscue quite well.
McDonald's took their twitter account about nine hours after their blunder and posted a tweet that was captioned with, "When you tweet before your first cup of McCafé… Nothing comes before coffee." Given that McDonald's has just released some new McCafé options, this tweet might just make their customers come in for a Black Friday pitstop.
Here is the McDonald's face-saving tweet.
Now, this isn't the first time that Wendy's and McDonald's have gotten into a cyber-fisticuffs on Twitter. Back in March, Wendy's replied to a McDonald's tweet about using fresh beef in the majority of their restaurants by mid-2018. Wendy's touted that they currently use all fresh beef in their restaurants.
If you're not picking a side in this restaurant battle, you can just sit back and enjoy the show.
Check out the entire Gen Why series and other videos on Facebook and the Bustle app across Apple TV, Roku, and Amazon Fire TV.