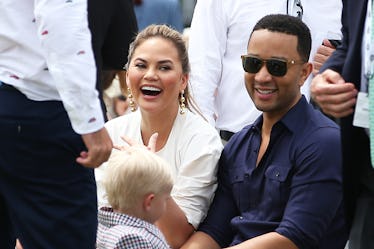 John Legend Trolled Chrissy Teigen's Pregnancy Announcement, & It's Too Perfect
Adam Glanzman/Getty Images Sport/Getty Images
Chrissy Teigen gets a lot of credit for being hilarious on social media, but her husband John Legend showed that he can match her in the best way. On Nov. 21, the couple took to Twitter, Snapchat and Instagram to announce that they're expecting baby number two. And, John Legend's response to Chrissy Teigen's pregnancy on Instagram is actual couple goals.
Legend, 38, and Teigen, 31, have been open for a while about their desire to have another child, and they stayed true to form in the announcement. Teigen posted a video on Instagram where she asked her one-year old daughter Luna "what's in here?" while pointing the camera at what was presumably her stomach. Luna then responded "a baby!"
Teigen, of course, added her usual wit to the caption. "It's John's!" she wrote.
But, nobody makes a quip like that without Legend, a Grammy, Oscar, and Tony winner, getting his own word in. And, he didn't miss a beat.
"Maury will have the final word on this," Legend responded. He was referring to The Maury Show, where host Maury Povich notoriously gives paternity tests and dramatically reveals who the father is.
Legend's response wasn't just hilarious, but it showed how in tune the couple appears to be with each other. After all, a relationship has to be pretty secure to survive a joke born out of a dramatic daytime talk show.
On Twitter, Legend played it a little bit more chill. He tweeted a link to the Instagram video, with two baby emojis and two hearts. Yep, it was pretty darn sweet.
Legend and Teigen have been pretty open about wanting to have a big family, but lately when it's come to talking about babies they hid this one in plain sight.
In an interview with People published Nov. 4, Teigen said that they were "still trying" for another baby.
"For me I really want to just knock 'em out ... That's my dream, I want to just be pregnant kind of for the rest of my life ... Not for the rest of my life, but the rest of my fertile life," she said.
Legend also played it mum with the publication in a recent interview. He told the magazine on Nov. 17 that the couple's daughter Luna was well-suited to be a big sister because she "is very sweet and she likes to share, so hopefully that will translate."
Looks like there might have been more than a few hints.
Just as they've been open about their desire for baby number two, the couple has talked about the obstacles they've faced to get there.
Legend told Cosmopolitan in August about the couple's decision to use in vitro fertilization (IVF), saying it was "especially difficult."
"You want to feel like everything's working properly and want everything to be perfect, but sometimes it's not," he told the magazine. "We're lucky that we're living in an age where we can conceive in other ways. (IVF) brought us Luna and hopefully it will bring us a few more awesome kids, too," he added.
Teigen has also talked openly about using IVF for the new baby. She told InStyle that she would be implanted with a frozen embryo.
"Sometimes I don't even realize I'm oversharing," she quipped in the cover story.
As for oversharing, fans have Teigen's Twitter habit to thank for more information about the new baby. They won't have to spend too much time speculating about the sex of the baby because the model posted in January that the last embryo they had was male.
Legend and Teigen's openness about their struggle to become parents twice over is refreshing; their announcement is so 21st century. These two are peak #couplegoals.