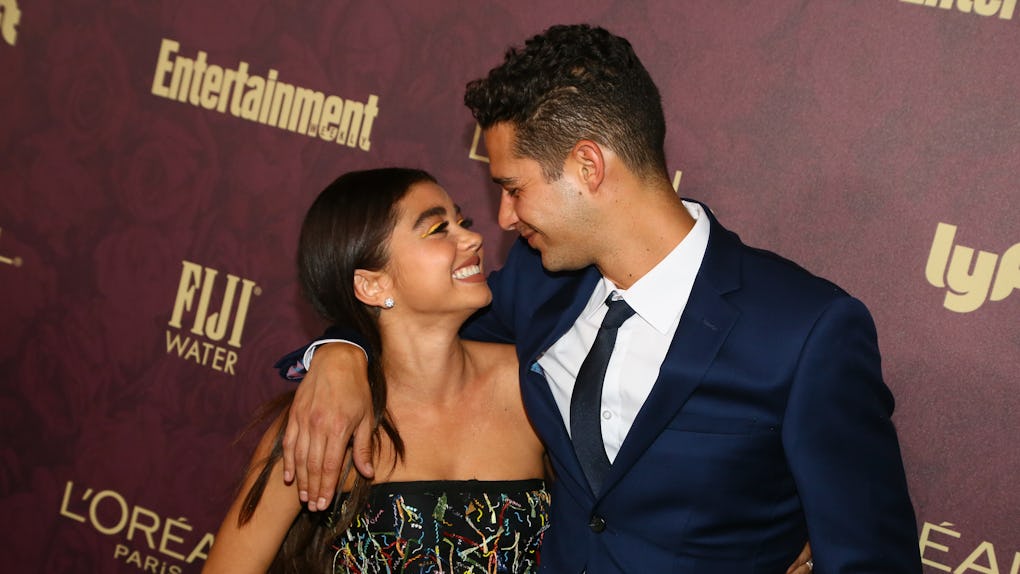 Gabriel Olsen/Getty Images Entertainment/Getty Images
Wells Adams & Sarah Hyland's Body Language Shows Nothing But Good Things For Their Future
It's been an interesting year for celebrity relationships. Between the all the breakups and soul-crushing news of long-term celeb marriages coming to an end, it's hard to remember that some couples are totally meant to be. Fortunately, that's where Wells Adams and Sarah Hyland come in. These two are totally adorable, relatable, and just plain gorgeous to look at. Wells Adams and Sarah Hyland's body language is basically all the proof you need that true love exists.
Body language expert Traci Brown tells Elite Daily that "they have a great shot at a long relationship!" Honestly, considering the success rate of most celebrity relationships, that's a great thing to hear. Now, in case you're in the dark about these two and their love story, allow me to tell the tale, because it's perfectly modern and simple. Back in July 2017, Hyland was watching Bachelor In Paradise (as you do, as we all did) and decided to tweet at Adams, who was the bartender on the reality show, People reports. In January, Hyland told Jimmy Kimmel Live! that they started to really get to know each other after Adams slid into her DMs. Eventually the two met IRL and have been inseparable ever since.
After moving in together this summer, Hyland and Adams seem perfectly happy, and according to Brown, their body language agrees.
1. Their first official couple photo was epic.
Back in November 2017, Adams and Hyland made their social media debut with the adorable photo above. And while I think they look happy, I was curious to hear what an expert would say. According to Brown, they're completely overwhelmed with love for each other.
"See how they're both leaning in and look glued together while they look in each other's eyes?" Brown says. "That's tough to do if you're not in love." Hear that? Back when they were just starting out, they were totally in love.
2. Then they took it up a notch.
Attending Entertainment Weekly's Screen Actors Guild Award Nominees Celebration in January 2018, Hyland and Adams posed for a super sweet photo, which Brown says highlights how close they are. "These two are tight!" she says. "They're holding each other equally close — both committed to the embrace. Cute to see!" Le sigh. They really are perfect.
3. Glued together!
The sweet thing about Hyland and Adams is that they're just so real. They share photos from their everyday lives, just being themselves, more often than they share fancy pics of them on the red carpet. This photo of the two at the Women's March, shared by Adams on International Woman's Day, is a perfect example of just that. "Here they are glued together with an equally tight embrace," Brown says. "They're just so cute." Perfection, these two.
4. Even when they'd been together for a while, they were still sizzling.
In May 2018, they posed for this laid-back shot. But even though their posture was casual, Brown emphasizes that it was still intimate. "They're all tangled up," she explains. "But notice how each of them has their hand inside the other's thigh! That's a personal zone that you don't let people in unless things are pretty hot between you." They're super sexy, y'all!
5. But sometimes, guys are just clueless.
Even though this photo Hyland shared of their vacation back in July 2018 looks super sexy, Brown explains that Adams is kind of clueless — at least, based on his body language. "She's more into him in this moment than he is," Brown says. "Only her personal zones are touching him. He's almost oblivious that anything sexy is going on." Men.
6. And finally, they're still hot and heavy.
Finally, when the two attended the iHeartRadio Music Festival in September 2018, they looked happier than ever. "It doesn't get much hotter with your clothes on!" Brown says. Not only are their eyes locked together, but you can almost feel the love radiating from these two. "They're glued together looking straight into each other's eyes. And they timed this picture just right — oh the anticipation of that kiss!"
Hyland and Adams are certainly in love and happy together, and if their body language is any indication, their love seems strong enough to survive the Hollywood relationship vortex. They deserve it!