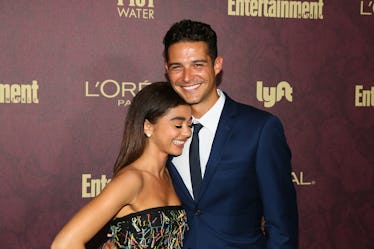 Wells Adams' Quotes About Sarah Hyland Show These Two Are Serving Up Relationship Goals
Gabriel Olsen/Getty Images Entertainment/Getty Images
Ugh, can we just take a minute to recognize how adorable Wells Adams and Sarah Hyland are? They're both talented, sweet, and attractive on their own, so when they got together, it was practically magic. Unsurprisingly Wells Adams' quotes about Sarah Hyland are the exact thing you need to get you through the week. After all, it's been a rough few days in the world of celebrity relationships. Honestly, it's been a rough couple of years. Way too many great couples in Hollywood have ended things, so reading Adams' quotes about his girlfriend of one year will definitely remind you that all hope is not lost.
These two just celebrated their one-year anniversary, but it definitely seems like they've been together for longer than that. They're constantly gushing about each other on social media and IRL and regularly keep us up to date on their day-to-day lives, which makes them that much more relatable.
They both have successful careers, cute dogs, great senses of humor, and most importantly, each other! Now that they've been together for a year and are officially living together, they're still going strong. Read on and try not to ugly cry at all the cute things that Wells (BF Goals) Adams has said about Hyland. Good freaking luck.