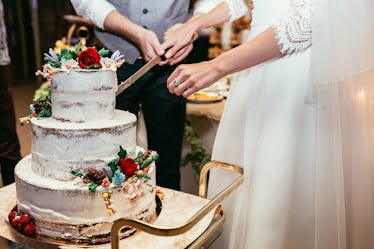 Wedding Cakes Made Out Of Cheese Exist, For All Of The Gouda Lovers Out There
Your wedding day should be a complete and utter fairy tale, down to even the tiniest of details. Planning out the essentials until the very moment you meet your Prince Charming at the end of the aisle can be a tad stressful, even for the gal who has her sh*t together on the regular. To ensure you make this memorable day your very own happily ever after, let's begin with a reception staple, shall we? It's no secret that sweet dreams are made of cheese, and for all of my fellow cheese fanatics out there, this one's most especially for you. Wedding cakes made out of cheese may very well be the stuff of dreams, but you can also have one IRL on your special day. Get ready to swoon and salivate, people.
You're probably thinking, "You've got to brie kidding me," right? A wedding cake made entirely out of cheese may not be the traditional route to go, but who will be judging, anyway? It's your day, and you make all of the rules. So bow down, betches. Besides, everyone loves some good cheese. Well, all of your gouda friends most likely do, so they'll be here for this unique take on the typical wedding cake.
FYI: I have no problem going on with cheese puns all day long. Sorry, not sorry. Quite honestly, I'm sure many of us diehards would happily choose to live off of cheese alone for the rest of our lives. Needless to say, making cheese an esteemed guest at your wedding is only appropriate. Get the spotlight ready to slay. Warning: The photos in this article may very well make you faint because they're just that damn delicious.
The Fine Cheese Co. in Bath, England dedicates an entire section on their site to cheese wedding cakes. The company debuted their very first cake made out of cheese back in 2002, and for that, we're so very grateful.
Oh snap, are we beyond #blessed with this un-brie-lievably delicious sight.
The Fine Cheese Co. website spotlights 16 cheese wedding cakes with different floral arrangements that will seriously take your breath away; they're that beautiful. And if you're not entirely sure on the cheeses for your special day, you can opt for a cheese wedding cake tasting box to go over options with your bae (while sipping on your favorite wine, of course). Picking out the perfect cheeses is an extremely important task, so choose wisely. BRB, moving to England.
Adorned with delicate white roses, your dessert spread will deliver the perfect mixture of savory and sweet.
Many places are hopping on the cheese wedding cake bandwagon. I.J. Mellis Cheesemongers, which has locations in Edinburgh, Glasgow, and St. Andrews, helps you create the personalized, tiered wedding cake of your actual dreams. Their website states that they're available to assist in selecting the best cheeses that'll make your tower all the more special. Hallelujah to that.
The website also mentions that these custom cakes have been gaining popularity in the wedding scene, and it's clear why.
I mean, even if those wedding bells aren't ringing for you quite yet, you don't really need an occasion to treat yo self to a cake of cheese, amiright? Whether you're hosting a holiday get-together, a birthday bash, or receiving that much-deserved promotion, this cheese takes the cake — literally.
It's safe to say you need a cheese cake in your life, and you need it STAT. Even if you can't dish out a ton of cash by having one specially made for you, these gems look pretty simple to DIY in your own kitchen.
Call up the girl squad, break out a few bottles of wine, and let's get this party started!