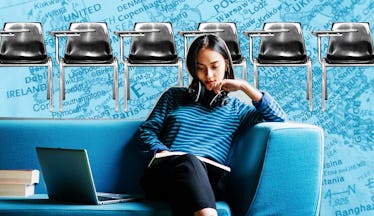 We Were On Study Abroad When Coronavirus Hit, & Here's Why We Chose To Stay
Photos from Getty
Within the span of weeks, the outbreak of the novel coronavirus, which causes the respiratory illness COVID-19, has gone from a localized concern to a worldwide pandemic. Since January 2020, the virus has spread across the globe, with over 460,000 cases confirmed worldwide as of March 26, per the World Health Organization (WHO). In many areas hit by the virus, borders are closed, and citizens have been ordered to return home or stay in their host countries indefinitely. But for students studying abroad, the coronavirus pandemic has an extra layer of complexity, as they have to weigh the risks of whether to return home or hold out until the end of their time abroad.
In large swaths of the world, authorities have put tight restrictions on residents' movement in attempts to slow the spread of the virus. In Italy, authorities put the entire country on lockdown on March 9 following a spike in cases that overwhelmed the country's health care system. In France, residents were ordered to stay in their homes on March 16. While there is no national lockdown order in the United States as of publishing, residents in some states and urban areas have been told to stay in their homes and to practice social distancing. As of March 27, there are over 85,000 confirmed cases in the United States.
On March 19, U.S. authorities instructed Americans abroad to either return home or plan to stay where they are indefinitely. While many people rushed home, others decided it was safer not to travel, or that staying put was worth the risk. Here, four students on study abroad in Italy, France, and Japan explain to Elite Daily why they chose to stay in their host country, and what they want others to know about their decision.
The following interviews have been edited for length and clarity.