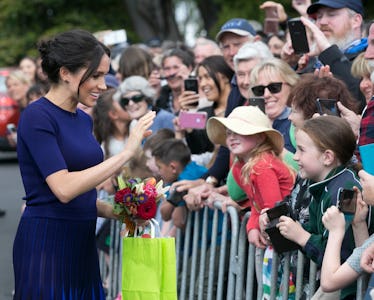 Meghan Markle's Skirt Seems Like It's See-Through, But She Still Looks Like Sheer Perfection
Pool/Getty Images Entertainment/Getty Images
If you're an avid follower of British royal news, then Meghan Markle's see-through navy blue skirt is probably already on your radar. Yes, you read that right. The Duchess of Sussex's latest look featured what looked like a slightly transparent element, and while the style is no stranger to high-fashion catwalks and stylish sidewalks alike, it's definitely new territory as far as royal style goes. While some publications have deemed the look a "wardrobe malfunction," I find it to be the perfect balance of daring and chic — in my opinion, it's sheer genius. Kensington Palace declined to comment on the matter.
For the last 16 days, Prince Harry and Markle have been on a royal tour visiting Australia, Fiji, the Kingdom of Tonga, and New Zealand. Oct. 31 is the final day of their trip (they're set to return home Thursday) and to mark it, the duke and duchess visited Rotorua, New Zealand, to meet with fans in an outdoor walkabout. Markle arrived looking stylish as usual, sporting her signature messy bun, navy blue pumps, and a custom sweater and skirt outfit by Givenchy. (Givenchy also designed her wedding dress, so it's no surprise she's continuing to champion the brand.) At first glance, the slightly shiny sweater and pleated midi skirt looked to be on par with every other effortlessly chic outfit Markle has ever worn (the woman can do no wrong) but once seen under natural light, the skirt became decidedly sheer.
Due to the nature of its fabric, which appears to be knitted, it's likely that the skirt appears opaque under some light and increasingly see-through under brighter or more natural light, though this can't be confirmed. Whether Markle was aware of the skirt's translucent nature or not, she totally rocked it and still looked every part the elegant and stylish royal she is. As you've definitely seen on runways and red carpets and probably even your BFF, the whole sheer-dress-over-solid-underwear trend, better known as the "naked dress" trend, is still going strong, so regardless of whether she realized it or not, Markle was rocking one of the coolest looks du jour. Leave it to her to be nailing challenging trends and not even realizing it!
Surprisingly, the navy skirt wasn't even the most interesting thing the duchess wore Wednesday. Earlier in the morning, she and Prince Harry visited Te Papaiouru Marae (a sacred meeting ground for Ngāti Tae-o-Tū and Ngāti Tūnohopū, subtribes of the Ngāti Whakaue) and attended a traditional Māori welcoming ceremony called a pōwhiri. For the ceremony, Markle and Prince Harry were asked to remove their shoes (Markle kicked off her Manolo Blahnik BB pumps) and were then dressed in traditional feathery Korowai robes.
If today's royal outings made one thing clear, it's that Markle looks absolutely incredible in everything she wears. I can't wait to see what future events and appearances will bring from the duchess in terms of sartorial decisions — hopefully she'll continue to push royal style boundaries and keep fans on their toes.