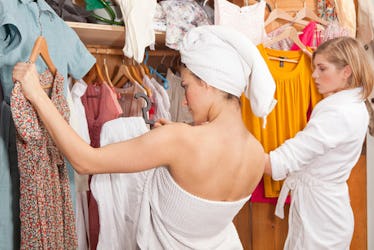 4 Thanksgiving Weekend Outfits To Wow Your Hometown Crew & Keep You Warm AF
Dressing up for your relatives on Thanksgiving is fairly formulaic. All you have to do is appear put-together enough to avoid any serious concern about your well-being. However, the weekend after Thanksgiving can be a bit baffling, style-wise. These warm outfits to wear on Thanksgiving weekend will get you through hangouts with your old high school crew, seeing your ex boyfriend, family outings, and everything in between.
Thanksgiving Weekend, ever heard of it? You know, the days after Turkey Day when you get together with everyone from your hometown/high school and attempt to one up each other. You try and make sure everyone knows just how amazing college is for you. Or if you've graduated already, you want everyone to know how sick your job is — you conveniently leave out the part about having to get your boss a searing hot, no-foam skim latte with an extra shot every morning. But other than that your life is just awesome and you've never been better. Words can only say so much though, you have to look the part, too, while dressing seasonally appropriate. All in all, you want to look cute and grown-up while not freezing your ass off.
All you have to do, though, is figure out who you're going to be reunited with, because I took the guesswork out of getting dressed for you. Are you going to run into your high school boyfriend, or are you just hanging with your BFFs? Either way, read on for the outfits that say, "I'm doing better than ever, thanks for asking," without a single word.
Hanging With Your Girl Squad
This is fo sho the easiest look to plan. Assuming your squad is actually made up of your true friends and not some Mean Girls Plastics crowd, you shouldn't need to worry about impressing them much. If you do, perhaps it's time to reconsider your squad. Either way, this look will get you through the night.
Does It All Midi Dress
Women's Flowy Maxi Dress - Who What Wear, $35, target.com
A midi or maxi dress says, "I'm mature AF." You're grown and you don't need to be showing off all the goods if you're just going to be hanging with your besties. A long sleeved dress is key for the colder months, because when you get inside and take your coat off you won't shock your system, or look too desperate. You can add tights, too, if you live somewhere akin to Winterfell. P.S. This dress also comes in plus-size because this is the real world.
Little Black Booties
Tommi Velvet Booties - Mossimo Supply Co., $50, target.com
Velvet was having a moment last winter, and luckily for those of you who succumbed to the trend, it still is. These western-inspired booties offer a fresh take on the style and they cover enough of your ankle to allow for socks, because cold.
Impressing Your Local Regina George
Everyone had that popular classmate, that girl who you hated but also kind of loved and wanted to be. The unofficial high school reunion that is Thanksgiving Weekend is the perfect time to subliminally show her that you're just as cool as she used to be. This look is all about high fashion, or as close to it as a real person can get.
Jumpsuit Around
Jumpsuit With Shoulder Gems, $90, zara.com
This jumpsuit is a game-changer. It even has pockets so your phone will never be out of reach to document the weekend. Layer a bodysuit underneath for extra warmth — it's already going to be a hassle to pee in a jumpsuit (it's just a law of nature) so you might as while be warm.
Upgraded Flats
High Heel Tulle Ankle Boots With Faux Pearls, $80, zara.com
Boots are a practical answer to the ever-present heels or flats dilemma. And this pair is just over one inch, so they'll give you the feeling of a heel while still enabling you to walk, not hobble. Regina George, and her feet, will envy you.
Making Your Ex Boyfriend Regret Everything
As much as I preach about self-love, everyone likes a little third party validation now and again, and an ex is one of the best places to get that. If you have someone you want to make weak in the knees, I feel ya. Exuding sexiness does not have to mean exposing as much skin as possible, though, especially this time of year. See below.
Break Ya Neck
Hot Line Ribbed Dress, $30, nastygal.com
NEVER underestimate the power of a little black dress. Notice the lack of exposed skin, particularly from the waist up. The slight turtleneck neckline says, "I'm sexy but I don't even need to try."
Sheer Genius
Tummy Shaping Sheers in Very Black, $24, spanx.com
Sheer black tights can be insanely sexy and they also make your legs look amazing. If you've never worn Spanx tights, you need to. As an aspiring adult, I advise you to stop wasting $5 on the cheap drugstore tights that are practically disposable after one use.
Step Out
If You're Strappy and You Know It Heel, $60, nastygal.com
Since you're wearing tights, this outfit can involve shoes that wouldn't play well with socks. This pair of strappy heels is absolutely strapping. Are you drooling yet? He will be.
For Your Former/Current Crush
Depending on the guy, you could wear the above outfit, but it may be a little much. If this a new flame, you want to entice him, not intimidate him. This cool girl sexy style strikes the ideal balance.
High Roller
BDG Twig Grazer High-Rise Skinny Jean in Black, $59, urbanoutfitters.com
Jeans get the cool girl message across, and high-rise jeans make your butt look like a work of art, so that gets the sexy part down.
Knot Yours
Project Social T Bailey Wrap Tee in Beige, $34, urbanoutfitters.com
This shirt will read as T-shirt to him, but you know it's so much more than that. Layer a lacy bralette underneath (if you're lucky enough to not need underwire), but have it peak out only a smidgen. This look is understated sexy. Throw on your favorite, most comfortable booties and you'll be deleting Tinder in no time.