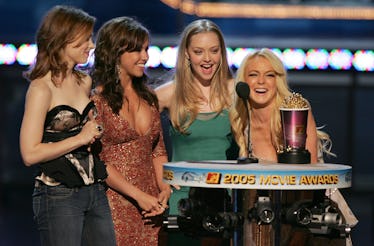 The 'Mean Girls' Eyeshadow Palette Is Finally Here & It's Like, Really Pretty
Kevin Winter/Getty Images Entertainment/Getty Images
Mean Girls is the gift that keeps on giving. Tina Fey originally blessed the world with the masterpiece back in 2004, and over ten years later I'm still thirsty for more. Well, my Gretchen Wieners-loving soul can finally breathe a sigh of relief, because there is now a Mean Girls eyeshadow palette. And it's like, really pretty.
This palette brings me one step closer to becoming a Plastic. Seriously, the limit to my Mean Girls fandom does not exist. I'm on an all-carb diet and my hair is full of secrets. Oh, and by the way, I love your bracelet. I haven't joined the Mathletes but c'mon, that's social suicide. Naturally, I've been waiting for such a product to bring me one step closer to Aaron Samuels and the world of North Shore High School. Here's hoping that I'll have Regina to guide me around.
And get this! Rumors of this palette have been circulating since 2016. Which means I had 12 years of pent up Mean Girls fandom just bubbling over. Earlier this year, in order to avoid anarchy, Storybook Cosmetics finally confirmed the product would be delivered this fall. Unfortunately, the palette didn't launch on October 3, it's available as of Nov. 1 (a Wednesday, at least), but it does not disappoint. So get in, loser, we're going shopping.
The palette is designed to look like Regina George's Burn Book, before she tried to frame Cady (pronounced 'Katy') for making it. The book, I mean palette, delivers 12 Plastics-inspired shades, one mirror for you to check your reflection without running into Danny DeVito, and zero trash talk. It's so realistic-looking you may want to hide it under your bed when you're not using it. Unless you have a cool mom.
From popping hot pink to a shimmery light green, the colors are so fetch. (Congratulations, Gretchen, you finally made fetch happen.) Each looks insanely pigmented and I can't decide which ones to try out first. They're even named after iconic moments from the movie. Regina George's namesake color is of course a beautiful pale pink. I'm using my ESPN to predict she'd layer it with You Can't Sit With Us, a matte peach option. Of course, she'd only be able to wear it on Wednesdays, which is another aptly-titled shade of pink.
As for Karen, she is most likely sporting Mouse...Duh, a sultry silver. Gretchen is definitely rocking So Fetch. Maybe blended with some Glen Coco, a milk chocolatey hue, because you go Glen Coco! Cady should probably stick with what she knows and blend steel-grey October 3 up to her brow bones.
The co-founder of Storybook Cosmetics, Missy Maynard, sounds just as enthusiastic about this collaboration as you should be. "We are incredibly excited to collaborate with Paramount Licensing on Mean Girls. We're total Mean Girls fanatics, and this eye shadow palette is one of the first palettes we dreamed up! When we secured licensing for it we were ecstatic," she said in a statement. Maybe they can make a foot cream next. Did I say foot cream? I meant face wash. Either way, Missy Maynard, I love your work!
The cosmetics company has spent the days leading up to Nov. 1 posting teaser photos on Instagram. Above are swatches showing the pigments on two different skin tones, and all of the colors look grool. This product is truly for everyone, and it would look equally fantastic on all you Damians out there, too.
Since the campaign models are sporting pink, it better have been Wednesday. Thank goodness there are no scrunchies or sweatpants in sight. They can sit with us.
Storybook Cosmetics boasts that the palette is "totally fetch, carb-free and cruelty free." Hurry up to order yours if you want one, I can't help it if it's popular.