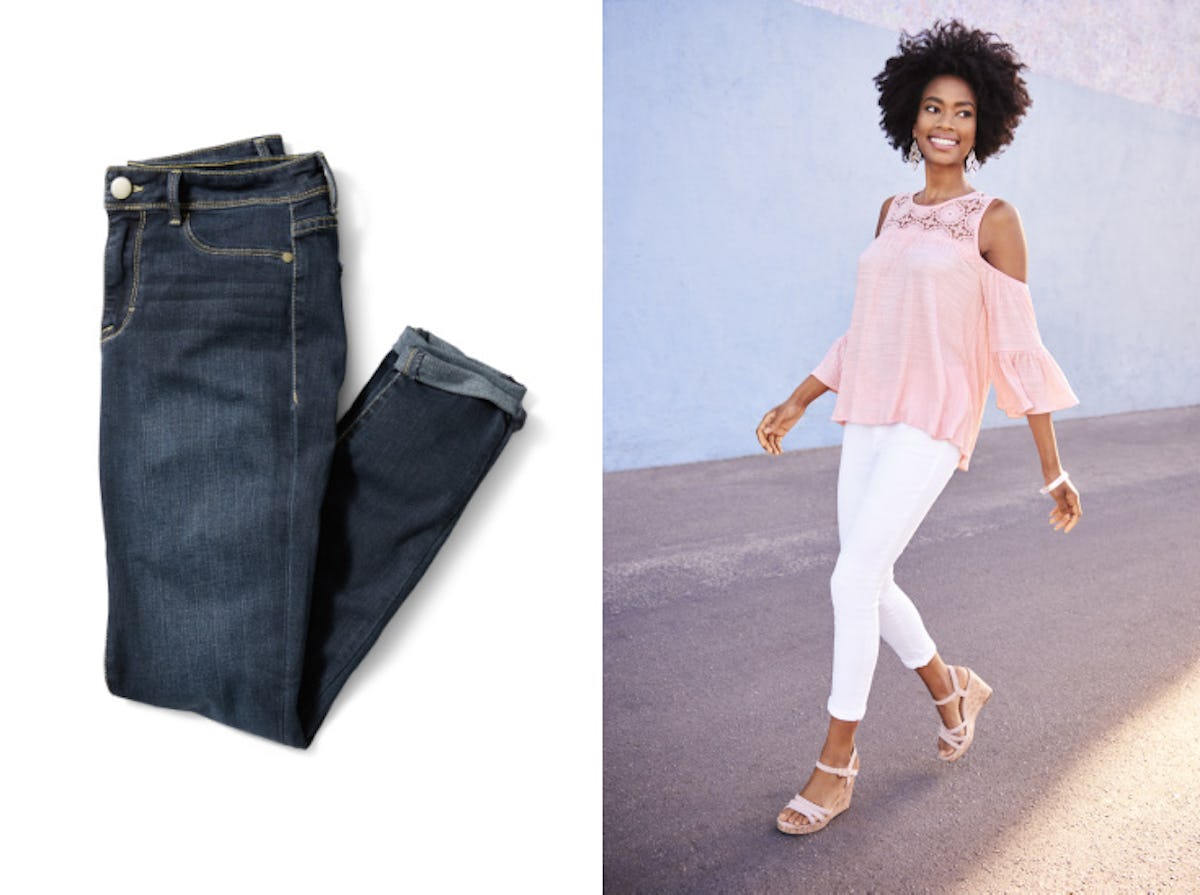 These $17 Jeans Are Made From Recycled Water Bottles & They're Actually Cute AF
Walmart
As someone who has watched way too many documentaries about how completely terrible the fashion industry is for planet earth, I love hearing about the newest sustainable innovations in clothing. And now, Walmart is selling jeans made from recycled water bottles, which has me slightly conflicted (because capitalism is real) but also really excited (because it's still a step in a greener direction). I'm a firm believer that any little bit helps, so yes, if I decide to buy new jeans, instead of my regular vintage Levi's, I will be buying a pair of these Time and Tru jeans, just in time for Earth Day on April 22.
Fashion is among the top four most pollutive industries in the world (some publications report it as number two, while others have it as number four), with the denim industry, specifically, being a huge contributor to that statistic. According to Forbes, everything from the indigo dye used in denim to the cheap labor involved to obscene amount of water involved in the process contribute to the amount of pollution caused by the denim industry. Because denim is one of the most universally worn items of clothing, its reach is far flung, causing its detrimental effects to be even more profound. I won't get into all of the nitty gritty details (though I'd recommend watching the documentary River Blue, if you're interested), but needless to say, it's time the fashion world started paying more attention to how its baby blues are made.
Enter: Time and Tru's uber affordable high-rise skinny jeans ($17, walmart.com), which you can buy at Walmart for under $20 and are made from recycled plastic water bottles. Each pair is made from approximately eight to 11 water bottles, all of which have been broken down into a fiber and blended with cotton, meaning the texture of the pants is super comfy and not at all abrasive.
What's more, you can currently get the skinny jeans on Walmart's website in eight different washes and hues, from a traditional light blue shade to a pastel pink and even to a khaki. Considering pastels are in for spring 2018, they're right on trend.
If you are indeed a fan of bootcut styles, you're in luck: Time and Tru will be releasing the silhouette, also made from recycled plastic water bottles, in July, so you don't have to wait much longer to get on the bandwagon.
The most sustainable jeans to buy would, of course, be vintage. And in my opinion, they're the coolest, too. I've said it before and I'll say it again: original Levi's 501 jeans are the most comfy, well-made, and stylish pants ever and I highly recommend you find yourself a pair. Vintage jeans are amazing in that they've been worn down to a soft, comfy texture by their previous wearers and are worn in at all the right places. But if you're not much of a high-waisted or bootcut gal, sustainably made denim is certainly the next best option.
This Sunday, April 22, is Earth Day, so what better way to honor it than by making a pledge to shop more sustainably? There are so many brands out there that value ethical practices — from only using vegan leathers to sourcing deadstock fabrics to using vegetable dyes and more — and need support in order to help save our earth. I am by no means a poster child for environmentalism (far from it!) but when it's this easy to shop green, there's no excuse not to pay attention to where your products are coming from. Granola rant over.