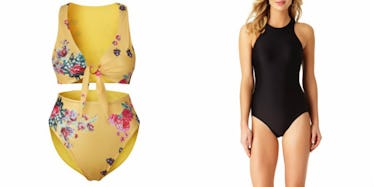 This Major Retailer Just Dropped Cheap, Cute AF Swimsuits & It's Not Who You Think
Walmart
Swimwear shopping is frustrating enough without prices coming in at over $100 per piece. It feels as if some of the smallest items of clothing have become some of the most expensive, which, wtf?! Walmart's cute swimsuits for women are here to finally make bikini shopping a whole lot cheaper, not to mention more accessible for all. Yes, you read that right: I am telling you not to sleep on WALMART's swim selection, of all things, which is as shocking to you as it is to me. I swear.
Growing up, getting a new swimsuit every spring was a treat I looked forward to. I loved seeing what sparkly bikinis or patterned one pieces the new season would bring, and remember trying on ten or more per shopping trip to make sure I chose the perfect one. The thing is, this spree always happened at the same store every year: Target. While we lived in relatively close proximity to a mall, Target was cute, reliable and, most importantly, affordable. The stores at the mall were exponentially more expensive (what growing 13-year-old needs a $100-plus dollar Abercrombie & Fitch bikini!?) and no other superstore could offer that perfect balance of cost and coolness. Bullseye.
But now, it appears Walmart might finally give Target a run for its money with its 2018 swim options. Unlike their basic iterations of days past, Walmart's swimsuit offerings are totally cute, and they come in at a fraction of the price of their high-brow competitors. One brand in particular is raising the bar. Called Time and Tru, it boasts one pieces and bikinis, alike, that feature sweet florals, mesh paneling, and flirty ruffles, meaning every sense of style will be satisfied. Other brands also have some solid offerings, so if you're in the market for more than one swimsuit you've got plenty to choose from.
Take a look at some of the best ones below!
Little Black Suit
Sleek, simple, and no-frills, this black swimsuit is perfect for the serious laps swimmer or vacationing New Yorker, alike. Paired with denim shorts, it could double as a bodysuit, meaning beach-to-bar dressing just got a whole lot easier.
Vintage Vibes
I love this retro-inspired suit! It's high-waisted briefs, tie-front top and sweet floral print speak to my throwback-loving self. It would look extra cute with a pair of white cat-eye sunnies and woven straw beach bag.
Candy Crush
Flirty ruffles are huge for swim this year, as are one pieces. This suit embodies both of those trends and has an uber punchy color.
V is For...
Victory! And stripes on stripes that look impossibly sleek. With it's high neckline, the silhouette of this swimsuit is already unique. But the pattern of the black and white stripes — which accentuates the waist — gives it a whole other layer of intrigue. It's kind of like an optical illusion, but in awesomely wearable form.
Sporty Spice
I love this sporty style of bikini, but it typically costs an arm and a leg. (I'm talking $90-plus per piece!). This version, which comes in at under $35 overall, has the same bright colors, zipper detail, and black piping, but at a fraction of the cost. It's a bit Fenty x Puma-meets-surfer girl, and I am here for it.
Minty Fresh
Thanks to it's poppy teal color and crochet detailing, this suit gives me major retro Cali surfer girls vibes. I love its little tassels and the unique silhouette of the top — so good!
X Marks the Spot
Another simple one piece, this white style has a strappy, low cut back that adds a subtle sexiness. At $10, it's got a price that's pretty impossible to beat. Sometimes, simpler is better.
Fine Print
There are so many things about this pattern-heavy bikini to love! From it's high-waisted briefs with cute ties to the triangle cutout on the top, it's bursting with awesome design elements. Its hints of gold metal almost serve as built-jewelry. It's got a lot going on, but it somehow all works together.