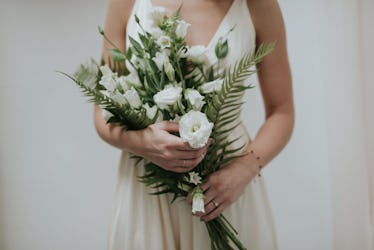 4 Women Share Why Walking Themselves Down The Aisle Is So Perfectly Fitting
I'm not anywhere close to being married yet, but thankfully, my family and I have a pretty open dialogue about what to expect when that day comes. I'm lucky to have parents who are really supportive of my life and my dreams, and they love the fact that I'm a strong feminist who isn't big on tradition. I've always liked the idea of walking yourself down the aisle as a symbol of independence and freedom from antiquated rules.
There are many reasons why a woman might choose to do this — maybe her dad isn't part of her life, or she's been living on her own for a while now. Or maybe she just wants to break from tradition. I've already told my dad I'm not keen on the idea of a man asking him for my hand, nor do I love the concept that a woman should be "given away." Thankfully, he fully agrees. I talked to several other women who have made this choice, and their stories left me feeling inspired and touched. No matter your situation, you should feel empowered to walk alone if it's right for you — no explanation needed. You're stepping into a brand new phase of life, and what better way to get there than to stand on your own two feet?