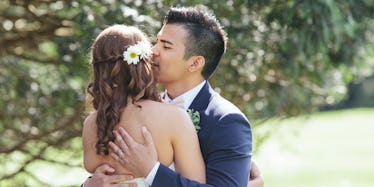 18 Grooms Admit Their First Thought When The Bride Walked Down The Aisle
One of the most romantic and fairy-tale like moments of the entire wedding adventure is when the ceremony doors open up and the bride begins her slow journey down the aisle.
As anyone who has ever sat in a Chiavari chair and turned his or her head toward the bride knows, this is the moment when the waterworks begin. The cellphone cameras flash again and again, as if all the wedding guests have turned into mini-paparazzi.
But, while all eyes are on the bride and her carefully chosen wedding dress, some may start to wonder what the heck the groom is thinking about during that emotional, once-in-a-lifetime moment.
Is he in awe of the bride's beauty? Crossing his fingers that she won't trip? Wondering if there's still time for them to back out of the whole wedding?
I asked 18 grooms, all of whom got married in 2015, about what was going through their heads as the bride walked down the aisle. Here are their answers.
Here Comes The Bride…Here Come My Tears
"I'm a pretty tough guy and I don't think in the four years I knew my wife before we got married she ever saw me cry. But, when the doors of the church opened and I saw her walk through them, I felt my eyes get wet and I had to seriously figure out a way to hold back the tears." – John M., 28
Fingers Crossed There's No Fall
"My wife is a little bit clumsy and I knew that her biggest worry on the wedding day was whether or not she could make it down the aisle without tripping. I remember crossing my fingers and thinking, 'Please don't trip, please don't trip, oh no, I think she may trip.'" – Mitchell H., 29
When Can We Eat?
"You can't blame me for thinking 'When are we going to eat?' when my bride was walking down the aisle. It was a long morning of photos and getting ready. Plus, we did a first look, so I had already seen her. By 7 pm, all I could think about was getting the ceremony over with and eating my way through cocktail hour." – Christopher S., 33
Phew, I Already Saw Her
"I was so happy we did a first look a few hours [beforehand]. If not, and the first time I saw her was at the ceremony, I think I would have publicly been hysterically crying. My nerves would have made me pass out. But, because I had already let the tears out, with her, in private, I was ready to roll during the ceremony." – Jason S., 26
When Is This Over?
"Being the groom in a wedding feels, I imagine, like being an actor in a movie feels like. It's very fake and put together. It's stiff. I saw her walking down the aisle, took a deep breath, and then started to countdown the minutes until the ceremony would be over." – Seth J., 31
Can Anyone See That I'm Sweating?
"I'm a nervous sweater. When she started walking down the aisle, I felt my shirt become soaked. I wondered if anyone could see the balls of sweat forming on my forehead and my hands." –Joe D., 27
I Can't Stop Laughing
"I was so happy and nervous that I couldn't stop laughing. It wasn't a loud laugh, but I was smiling and laughing. I wondered if people thought I was being immature or awkward. I was just really happy." - Sam H., 31
Thank God She Showed Up
"I didn't see the bride before the ceremony, so before the whole thing started and I saw her walking down the aisle I wondered if she would show up. I didn't have doubts, but my nerves made me start to question everything. When the doors opened, I hoped she would be there and she was." - Matthew D., 33
It's Really Warm In Here
"Note to future grooms: Some churches don't have air conditioning. If you get married in the summertime, you will feel the heat. When I saw my bride walk down the aisle, I felt so hot, I wondered if I had a fever." – Joshua S., 35
Why Did She Pick Me?
"When I saw her walking down the aisle, I felt like the luckiest guy in the world. I know that sounds lame but, in that moment, I really wondered why she picked me." – Clark S., 28
Should I Stay Or Should I Go?
"When she was walking toward me, my mind went blank. I forgot where I was or what we were about to do. I started to walk toward her and meet her halfway down the aisle, but the priest grabbed my shoulder and whispered that I should stay standing here. It was embarrassing." –Mike J., 33
I'm Going To Pass Out
"I didn't eat all day and it was hot. Plus, I was nervous. When the bride walked down the aisle, I kept thinking, 'Don't pass out…whatever you do, don't pass out.'" – Justin K., 24
Am I Dreaming?
"It's going to be embarrassing to admit this, but I literally had to pinch myself when I saw her walk down the aisle. I hoped this wasn't a dream but it felt like a good possibility that it was." – Jimmy P., 31
She Looks So Beautiful
"I always think she looks beautiful, but on the wedding day she looked absolutely stunning. I never wanted to forget how she looked in that moment, so I closed my eyes for a second and took a mental photo." – Stewart L., 36
I Don't Think I Can Speak
"I kept whispering, 'oh my god, oh my god' underneath my breath. If someone made me speak in that moment, I would have sounded like a 2-year-old." – Tim W., 25
Why Are People Looking At Me?
"I saw eyes looking my way and I wanted to tell them to look at the bride instead. I wondered why people were looking at me when she looked perfect." -Tim S., 35
I Went Back To Our First Date
"I couldn't help but think about the first time I saw her and met her. I went back to that moment and I smiled." – Harvey K., 33
I Think I Forgot How To Breathe
"I forgot how to breathe for a second. My heart was racing and I was sweating. You can say I was nervous -- I would say that I was just really happy to be there that I forgot how to breathe." - Paul Y., 23