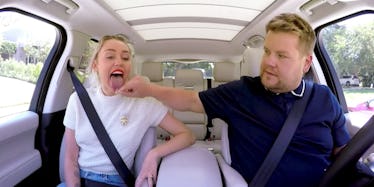 Miley Cyrus Has Her Own 'Carpool Karaoke' Episode Coming & It Looks Unreal
Youtube
It's hard to say who is having the best year in Celebrity Land, but I'd definitely put Miley Cyrus toward the top. She released her new chill girl single "Malibu" earlier this summer, and with that came a new and more mature version of Miley that the world is still getting used to, but loving nonetheless. In a new teaser video of Miley Cyrus' Carpool Karaoke episode, it looks like we can expect hilarious shenanigans with host James Corden as well as some awesome throwbacks to her greatest hits.
And listen, no one loves Carpool Karaoke more than me. It's where I learned Adele is somehow a normal person and a true goddess. It's where I learned that I actually do find Ed Sheeran attractive. It's where I learned that Harry Styles cries. Plus, growing up, I would have put all of my money on ending up with a James Corden-type as my husband. You guys know the kind... someone approachable, hilarious, a great singer, and obviously British. Putting Corden in a car with my favorite musicians while singing some of my favorite songs was bound to be the best television I've ever seen besides that old MTV show NEXT.
I freaking love it, dudes.
In the teaser for the episode, Corden pokes fun at Cyrus for making her tongue her number one accessory for all of these years. If you guys recall, for a long time she couldn't go anywhere without sticking it out.
In the video, Corden says, "Your tongue makes less of an appearance today than it used to." She, of course, then sticks it out for him to see. He responds, "That is a long tongue."
TBH? It really is. Take a look.
In the video clip, we see Cyrus and Corden rocking out to "Party In The USA" where Miley throws in some crazy riffs and Corden hits his signature harmonies.
And, just because they couldn't help themselves, they poke fun at Miley's long-*ss tongue. Corden playfully whips out some envelope stamps for her to lick, saying, "Thank you, Miley." She humbly replies, "Uh-huh."
Man, what teamwork.
Miley recently revealed in a telling Billboard interview where the whole tongue thing initially started. She said,
I was so ­embarrassed to be on the red carpet. So many of those f*cking disgusting ­photographers would tell me to blow a kiss, and that's not me! I don't want to blow you a kiss. I didn't know what to do with my face, so I stuck my tongue out, and it became a rebellious, punk-rock thing.
Well, when she puts it like that, it makes a lot of sense.
In the same interview, she spoke even more about her growth and personal transformation over the past few years. She explained how her music career has been a winding journey that guided her to who she is now: a confident, talented, young performer with a massive following who is returning to her roots.
She said,
I have to ask myself, 'How am I going to create real change?' and not just f*cking preach to the choir anymore ... This record is a reflection of the fact that yes, I don't give a f*ck, but right now is not a time to not give a f*ck about people. I'm ­giving the world a hug and saying, 'Hey, look. We're good — I love you.' And I hope you can say you love me back.
Girl, you know we do.
You can catch Miley in Carpool Karaoke on Oct. 10, on The Late Late Show with James Corden airing on CBS at 12:37 a.m. ET.
Check out the entire Gen Why series and other videos on Facebook and the Bustle app across Apple TV, Roku, and Amazon Fire TV.