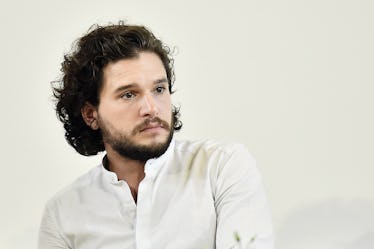 Jon Snow Got Kicked Out Of A Bar IRL After A Different Kind Of "Game" & There's Video
Stefania M. D'Alessandro/Getty Images Entertainment/Getty Images
Celebrating the end of a hard (or not-so-hard) week with a Friday night out on the town is pretty common. I'm no stranger to an end-of-the week brew or two to help me get relaxed for the weekend. It turns out that your favorite actors also appear to enjoy a Friday night trip to the bar. Unfortunately, the latest appearance at a New York City watering hole didn't have the best ending for a certain Game of Thrones star. This video of Kit Harington being kicked out of a bar is probably not the way he wanted to start his weekend.
Elite Daily reached out to Kit Harington's representation for comment but has not heard back at the time of publication.
The unfortunate footage was caught by TMZ cameras while Harington was enjoying a night out at Barfly in New York City on Friday, Jan. 5. Television's Jon Snow appeared to have imbibed in one too many drinks while playing a game of pool. It's not clear as to whether the game wasn't going his way or if he was just unhappy with something else, but Harington began to show his frustration by getting in fellow patrons' faces and disrupting the pool area by banging on the table and angrily grabbing pool cues, according to TMZ.
The dramatic show (seen in the video below) was enough for bouncers to ask Harington to leave the bar.
While Harington agreed to leave at first, that reportedly wasn't the end of his night at Barfly. Perhaps he left his tab open at the bar (guilty) or maybe he just couldn't leave his unfinished pool business, but after leaving once on his own accord, Harington reportedly decided to come back. Unfortunately, security didn't agree with this open invitation, and they then escorted Harington out for what would be his final exit of the bar that night, according to an eyewitness who spoke to TMZ.
Now, I'm not sure if the video captures everything that went down on Friday night, but from the looks of it, Harington appeared to be intoxicated and quite irritable. While in that moment he definitely seems like the kind of patron that I wouldn't want to be near in a bar since it seems like he was in that mode when drunk people become a broken record and tell you the same thing over and over again (perhaps about how they should have won that pool game), I think that security was probably being cautious by removing a potential problem before it became a serious issue.
As for why Harington was imbibing on Friday, there are a couple of reasons why the GOT actor might want to raise a glass. In the good news department, Harington recently became engaged to his longtime girlfriend, Rose Leslie. The couple announced their engagement at the end of September last year. Of course, engaged bliss isn't a reason to get silly wasted, but it is definitely good news worthy of a toast.
Harington could have also been drinking for a (less-than-happy) reason, as it was officially announced that the final episodes of Game of Thrones won't air until 2019. Even more, HBO didn't even provide a specific timeline for when in 2019. I'm sure many a Game of Thrones fan (of legal drinking age, of course) would join Harington in drowning their sorrows in a pint or two.
Once again, neither of these are excuses for Harington's display on Friday night. Hopefully, next time Harington goes out for a night on the town he can keep his wits about him — he'll need to be prepared in case winter is coming.