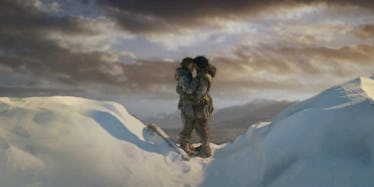 Kit Harington & Rose Leslie Are Engaged & They're Making Our 'GOT' Dreams Come True
HBO
As a wise old Impressive Clergyman once said, "Mawwiage. Mawwiage is what bwings us togethew today"... or at least the very thought of it. While Game of Thrones might not be the most romantic of stories, it has had a fair share of lovers, including the star-crossed Jon Snow and Ygritte. But off-screen, actors Kit Harington and Rose Leslie have dated so long, they're proving the doubters wrong. And now rumor has it they may have taken the next logical step. Could it be true? Are Kit Harrington and Rose Leslie engaged? According to a source, they officially are.
Elite Daily reached out to both Harington's and Leslie's reps for confirmation but has not heard back by the time of publication.
While they were never to be on screen, off screen, the actors who played Jon Snow and Ygritte, Kit Harington and Rose Leslie, have been dating since they met on set in Game of Thrones Season 2. They were first spotted together the summer of 2012, after meeting cute in the snow on screen, but before beginning to film their doomed romance in Season 3.
Perhaps assuming, as others would, that meeting on set was too cliche, they broke up by the summer of 2013, and steadfastly seemed to be single all through the filming of Ygritte's final year on the show in Season 4. But even so, fans hoped they would reconcile.
In 2014, Harington seemed pretty wistful for the relationship to come back again, saying this about Leslie:
If you're already attracted to someone, and then they play your love interest in the show, it becomes very easy to fall in love.
As did Leslie, who called Kit her "dear friend."
Kit is a lovely and funny man, and a dear friend. We had known each other before we started working together on Game of Thrones. It was always such a privilege to be working opposite him and such a blessing that we get on in real life because it made our characters more believable.
But even after Leslie was off the show for good, and had moved on to film a return to the show where she first rose to fame (Downton Abbey) as well as a starring turn with Idris Elba in Luther Season 3, the sparks were still flying. By the next year, the two actors seemed to decide that it was ok to go back to dating, since their attraction to each other had well outlasted their time together on screen. But it wasn't until April 2016 that they decided to officially go "public," when they made their red carpet debut together at the Oliviers. (That's the UK's version of the Tonys.)
Recently, it was reported that the two of them are in so deep with their relationship, they've bought a castle. Harington confirmed as much during the press barrage for the run-up to this year's season, telling James Corden that they were indeed moving in together and that Leslie was decorating the castle as she saw fit. (Is there a DIY show on How to Decorate Your Castle? I feel like they could totally fill an HGTV niche here.)
At the time, Nicole Kidman, who also happened to be on James Corden, promoting her own project asked Harington if he was popping the question anytime soon. Harington didn't answer, saying they were taking it one step at a time. (Besides, plenty of people decide to buy the house first before spending money on a wedding. After all, only one helps you build equity for the future. Sensible girls take the castle.)
Did Kidman put the question into Harington's head? Or was this already a planned thing, once Season 7 was over, and Harington knew he would have time to worry about getting married with the nearly two-year wait until next season? Hopefully we'll find out if the rumors are true soon enough.