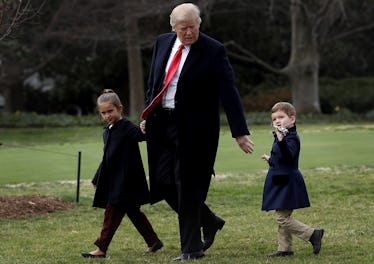 Trump Keeps Making The Chinese President Watch Ivanka's Daughter Sing In Mandarin
Win McNamee/Getty Images News/Getty Images
During his visit to China this week, President Donald Trump showed President Xi Jinping a video of his granddaughter, Arabella Kushner singing in Mandarin. While drinking tea with Xi on Wednesday, Nov. 8, Trump took the opportunity to show Xi a video of Arabella, the young daughter of Ivanka Trump and Jared Kushner, singing and reciting poems in Mandarin. This clearly went over well with the Chinese president, who admired Arabella's Mandarin skills and gave her performance an "A+" according to The Standard, a Hong Kong Newspaper.
In the video Trump showed Xi, Arabella reportedly recited classic Chinese literature and sang a song about the Chinese countryside, with lyrics including, "The quiet lake is studded with lotus flowers. Golden carps are so big and fat."
This isn't the first time Xi has seen Arabella speak or sing in Mandarin. During his United States visit to Mar-A-Lago with Trump in April, Arabella performed a Chinese song for the Chinese president and first lady. The video was captured and posted on Twitter by Ivanka Trump, saying, "Very proud of Arabella and Joseph for their performance in honor of President Xi Jinping and Madame Peng Liyuan's official visit to the US!"
Here is the video Trump reportedly showed to Xi on Wednesday:
Arabella has been recognized for her A+ Chinese skills in the past, as well, and videos of her speaking Mandarin have actually gone viral in China. In fact, many people, including reporters for the state-run Chinese newspaper Global Times have said that Trump's granddaughter and her interest in Chinese culture is a huge draw for an amiable relationship between the two countries. The newspaper reported that the "acknowledgment" of China's "achievements and its potential" by the Trump family is largely due to Arabella.
The six-year-old, along with her mother, was widely praised in China after Ivanka posted clips of her daughter singing in Mandarin to celebrate the Lunar New Year in 2016 and 2017. The pair also visited the Chinese Embassy in Washington in February, which won over more Chinese with love for Ivanka and her daughter. It's also probably no coincidence that Ivanka's husband, Jared Kushner has business ties in China, as well.
In February 2016, Ivanka posted on Instagram, saying, "Arabella wanted to have a pre-bedtime #ChineseNewYear party this past Sunday evening. She got all dressed up and performed songs and poems for Jared, Joseph and me. It was pretty adorable."
This year, Ivanka posted on Instagram in February, saying, "Arabella singing a song she learned for #ChineseNewYear. Wishing everyone an amazing year to come during these days of celebration."
As the videos of Arabella went viral on Weibo, China's version of Twitter, more than 60,000 people said they liked Arabella's song, earning her more popularity than her grandfather to some, according to The New York Times.
The Kushner family clearly values the Mandarin language, considering the family spends upwards of $75,000 annually on Mandarin lessons. Arabella has been taking lessons from the private Carousel of Languages School in Manhattan since she was 3 years old, and her younger brother Joseph Kushner, who is 3 years old now, also takes lessons, according to Quartz.
This isn't the first time Trump has used his granddaughter's Mandarin expertise to his apparent advantage during his work as president. In July 2017, during an interview with The New York Times, Arabella Kushner reportedly walked into the room where the interview was happening and interrupted the conversation. That turned into Trump asking her to say a few words in Chinese to the reporter before she left the room. Kushner reportedly said, "Ni hao," which means hello, and "I love you, grandpa" in Mandarin.
Once the transcript was published, people on Twitter accused Trump of using his granddaughter as a way to "bail out" and change the subject of the interview, which at the time of the interruption was about former FBI Director James Comey.
Trump has found a way to utilize his 6-year-old granddaughter in matters of diplomacy, just as he's used his trusted adviser and daughter, Ivanka, for foreign relations in the past. Jut last month, world leaders were reportedly lining up to meet with Ivanka during the United Nations General Assembly, in New York, where she accompanied her father.
Trump uses his family's assets, but not without giving himself credit in the process. As shown during the July interview with the New York Times after Arabella interrupted, Trump said, "She's great. She speaks fluent Chinese. She's amazing... Good, smart genes."