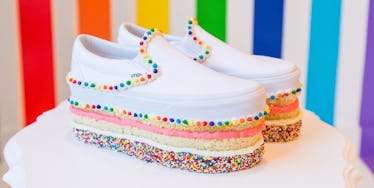 I Need These Rainbow Sprinkle Cake Vans & It's Not Even My Birthday
I've heard of some crazy shoe designs before, but I've never seen anything that literally made me salivate and crave milk (?) simultaneously. The Vans Custom Culture Competition tapped prominent artists and designers to put their own spin on a pair of white slip-on Vans, but famed baker Amira Kassem of NYC's Flour Shop decided to join in on the fun, too. Kassem cooked up a pair of rainbow platform cake sneakers, so get your drool emoji ready.
The Vans Custom Culture Competition is a friendly art-based contest among American high school students to win money for their art programs. Schools are tasked with decorating two pairs of blank white canvas shoes with two different themes: Local Flavor and Off The Wall. The categories are relatively broad, giving students room to put their own spin on things. The first place school receives $75,000, and four runner-up schools each receive $10,000! Considering that funding for art programs has been slashed in recent years, Vans is hitting the right mark with this contest by donating to art programs as well as encouraging students to be creative.
Enough with the nitty gritty details and onto the shoes. Vans asked artists and influencers in varying industries to be ambassadors for the contest and create shoes to drum up excitement. The results are amazingly intricate styles, but one semi-edible style really takes the cake.
New York City's Flour Shop has been nicknamed the most Instagrammable bakery ever and I am officially planning my weekend around going there. The bakery is well-known for its candy-filled exploding rainbow cakes that took over the internet in 2017. The space itself looks like a slice of heaven too, as everything is covered in rainbows and unicorns just waiting to be 'Grammed.
The rainbow sprinkle platform sneakers that Kassem, Flour Shop's founder, created are right on track with her colorful aesthetic. The shoes have what looks to be a 3-inch platform made entirely out of cake and icing. The bottom layer is covered in multi-color sprinkles, and the tops of the shoes are dotted with rainbow candies. Considering the fact that these sneakers are more a work of art than anything else, I'm bummed that I can't wear them or eat them, but nothing will stop me from physically drooling over them for the rest of the day.
Another sweet shoe! Baker Alana Jones-Mann created a pair of cake-inspired lace-up sneakers. Mann says she didn't actually put icing on the shoes, but she would have fooled me.
Brooklyn-based artist Martha Moore Porter bejeweled her shoes with every color under the sun. "Arts education programs are often the first to get cut out of budgets, so this program can make a huge difference for the winning schools. I cannot imagine where I'd be today without the encouragement and art education I received in high school," said Porter in her post.
Rainbows and sequins FTW. Christina Winkelmann Swift showed of her company ban.do's fun side with these Lisa Frank-esque shoes. Swift explained that the shoes were "inspired by my trip to #tokyo last year!" Extra points for using the Kirakira app for even more sparkle.
Photographer Chloe Rice designed a prescious pair of bunny shoes. Looks like the male bunny is upset about something though, how sad!
Illustrator Mike Atniel read my mind and put two of my favorite foods on a pair of shoes. They look good enough to eat, almost as delicious as the cake sneakers.
The Pop Up Florist created an all-white, floral origami sneaker. Rainbow flowers would have really put these over the top, but the 3-D design is still dope.
Last but not least (actually not last either because there are lots of other ambassadors!), fashion designer Rebecca Minkoff put sparkly silver ink to white canvas and stole my heart with this bejeweled pair.
Check out the rest of the ambassadors and their designs on the Vans Custom Culture Instagram page. And for my next birthday, order me a Vans-shaped cake.