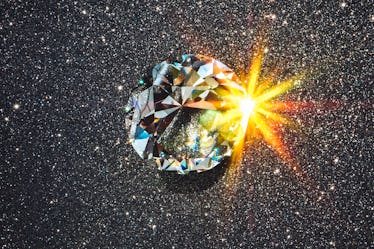 This App Will Make Your Instagram Posts Sparkle & You'll Definitely Fall In Love With It
A few months ago, I was scrolling through my friend's Instagram feed and discovered the prettiest feature I've ever seen. It wasn't a filter or a set of new stickers in the app — it was sparkles. The sparkles I saw in my friend's IG post were making every object in her video glisten with a type of shimmer I've never seen before. At that moment, I knew I had to find out how she got those sparkles... and I immediately did. After a quick Google search, I realized she was using an app called KiraKira+. The app — which is a total must-have, BTW — will transform your videos and pictures into magical, twinkling scenes fit for a movie star. Allow me to show you how to use the KiraKira+ app to make your Insta grid shine.
Before we get into detail about how to use the app, let's quickly talk about what it actually does to your photos and vids so you understand what you're getting yourself into (because once you start, you're going to get hooked). Basically, the app turns light reflections and any hint of shine into glistening shimmers that illuminate on camera. Whether you're filming a glass of wine during sunset at happy hour or a new sequined dress, accents of shine will be enhanced to look like it's shimmering with animated sparkles.
Take a look at these gorgeous examples.
See what I mean? Whether you're showing off a new outfit, your sparkly makeup, or some bling-bling, this app really highlights the shine... and I'm obsessed.
Now that you've seen what the app can do, let's talk about how to use it. Of course, I'll state the obvious and tell you that you need to first download the app. It's called KiraKira+ on the app store, and costs 99 cents. Don't freak out, though — I used my hard-earned money for the download and it was totally worth it.
Now that you have the app downloaded and ready to go, open it up! When you click on the app's icon, your camera should appear. Underneath the screen, you should have three options: photo, video, and square. Personally, I like using the video one because you can see the sparkles in action.
OK, it's time for the fun part. After you've opened the app and decided what you want to film, you must "turn on the sparkles" by hitting the tiny star in the upper right-hand corner of your screen. Once you click on that, the hints of shine in your camera should start to glisten.
Before filming, you can choose from different sparkle filters. You'll soon discover (by swiping right on your screen) that you have seven options including KiraKira, Twinkle, Airly, Color, Shine, Bling-Bling, and Glare. Each option has its own sparkle color and filter, so you can get really creative with your glistening footage.
Once you've chosen your favorite filter, you can even tweak the intensity of your sparkle. In the upper right-hand corner of the app, you'll see three vertical dots. Each signifies a sparkle strength, with the top dot being the strongest and the bottom dot being the lowest. If you're into super glistening videos, I'd choose the top. But if you're just looking for a subtle shine, go closer to the bottom.
For those of you looking for a lot of shimmer, you can even turn the flash on in the app for more shine.
Once you have your filter set, your flash on, and your sparkle strength chosen, you're ready to record. Like most other phone cameras, all you need to do is hit the red button on the bottom center of your screen and watch how the world around you transforms into a glittery fairytale.
When you're done recording, the video (or photo) you've taken should go directly to your phone's photo album... and that's it! Since the app is external from Instagram, you'll need to upload your footage like you would with any other photo or video.
It's as simple as that. Once you download this app, I bet you'll never be able to take a sparkle-less video or photo ever again.
You're welcome.
Check out the entire Gen Why series and other videos on Facebook and the Bustle app across Apple TV, Roku, and Amazon Fire TV.