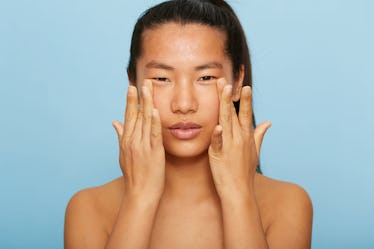 The Surprising Product That Saved My Acne-Prone Skin Is Definitely Not What You Think
Before I realized how beneficial cleansing balms are for acne-prone skin, they scared the crap out of me. Not only did they seem way too thick for my acneic skin, but most of them included instructions to take off the balm with a cleansing cloth instead of splashing your face directly with water. It felt strange to use such a small amount of water when washing off the day's dirt and grime, but after my first use, I realized that washing your face with a cleansing balm and washcloth is probably the cleanest (and softest) your skin can get after cleansing.
Now, let me explain. Let's think about car washes for a moment. When you wash your car manually, are you just pouring soap on it, swishing it around with your fingers, and then rinsing it off with a hose? Let's hope your answer to that one is no — you're most likely using some sort of rag or wash mitt to pick up all the dirt, debris and bird poop off your car. That's how I think about it when it comes to my cleansing routine. Cleansing balms break up all the makeup, dirt and pollution on my face, while the cleansing cloth (rinsed in hot water) physically takes off all of that gunk and washes it down the drain. Plus, I love the added exfoliating benefits of washcloths — not too harsh, but still effective.
So, what exactly is a cleansing balm, you ask? "The best way to describe the consistency of a cleansing balm is that it falls somewhere between a cleansing milk and a cream," says Dr. Joshua Zeichner, director of cosmetic and clinical research at Mount Sinai Hospital. "It has the benefit of being able to effectively remove dirt without stripping the skin of essential oils and disrupting the skin barrier."
And that's exactly why I love using cleansing balms — every time I wash my face with a balm, I'm left with skin that feels clean, but still hydrated and supple. I never get the "squeaky clean" feeling that you oftentimes get with gel or foam cleansers, and sometimes I even forget to apply my moisturizer afterwards because my skin never really feels like it's dying of thirst. "Cleansing balms can be used across all skin types, even those with oily skin or acne," explains Dr. Zeichner. "Skin oil and skin hydration are two separate issues, and many people suffer from breakouts but are still dry," he says. "Plus, many acne treatments can dry out the skin, so using hydrating cleansers are beneficial."
Have I convinced you to try one out yet? See below for the top five cleansing balms I (and my skin) can't live without:
Dating back more than 30 years ago, this OG cleansing balm is as luxurious as the price tag suggests. Of all the cleansing balms I've tried, this one is the thickest and smoothest balm, and comes with a lovely muslin cloth.
Unlike the others, this balm comes in a tube form, but is still just as thick as the rest. It comes with a little rubber cleansing mitt, and is meant to be used right before your regular cleanser (to remove makeup and impurities), but I like to use it as my regular cleansing balm.
This one has been my favorite cleansing balm of the lot. It smells amazing, is just the right amount of thickness, and I like that the consistency is almost a little bit chunky.
Kat Burki Vitamin C Nourishing Cleansing Balm ($65, Kat Burki)
This formula is so incredibly light, you'd think it was a serum or something. I love how lightweight this cleansing balm is, and I like to use it on days that I'm feeling more oily and want a little bit less hydration. That's not to say that this pick isn't moisturizing — just hydrating in a different way.
The Elemis cleansing balm did a fabulous job of melting away my makeup, and I love the cleansing cloth that it comes with.
Emma Hardie Moringa Cleansing Balm with Cleansing Cloth ($60, Emma Hardie)
The Emma Hardie cleansing balm is the most recent balm I've been using in my lineup, and it feels much different than the rest. This balm feels light and the smell is delightful. Plus, it comes in a big jar, so you're really getting a bang for your buck.