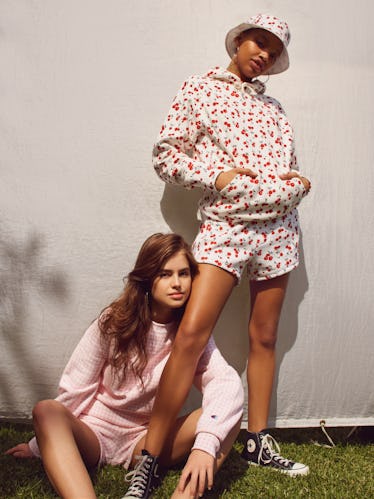 Urban Outfitters Collaborated With Champion & The Clothes Are Peak '90s Comfy-Cute
If you love the athleisure trend as much as I love a so-sweet-it's-edgy print, then you're going to fall head over heels for a certain upcoming collection. It's comfy, it's cool, and it boasts the cutest of patterns, to boot. Urban Outfitters' Champion x Harley Viera-Newton collaboration is about to infuse your wardrobe with some seriously chill staple pieces, so get to your spring cleaning and make some room in your closet. Trust me, it'll be worth it.
I've been a fan of Viera-Newton's since reading about her pipedream of a DJ career when I was in college. Born in London, she reached it-girl status in New York by spinning at the chicest fashion parties around, always while impeccably dressed. Her gutsy, vintage-inspired look always struck a chord with me, as did her then-waist length hair, and I soon looked to her and her Instagram account for major style inspiration.
Imagine my delight when in 2015, Viera-Newton launched her own line of dresses, HVN, that expertly transformed retro silhouettes and playful prints into must-have pieces desired by every Insta star, model, and actress around. HVN's offerings — which feature tiny hearts, cheeky strawberries, and sweet florals — have since been spotted on Emma Roberts, Lucy Hale, Lily Aldridge, Millie Bobby Brown, Selena Gomez, and Sasha Lane. AKA every cool girl ever. But at around $700 a pop, they've always been way out of my price range.
Which is why this new collection, which retails between $35 and $80 and includes a few of HVN's signature prints, is beyond exciting. As described in a press release, "With the Champion and HVN for Urban Outfitters collection, Harley Viera-Newton is reimagining classic Champion pieces including the Reverse Weave and tracksuits using her well-known eye-catching prints like gingham, cherries, leopards and palm trees. The result is a uniquely chic women's collection."
It legitimately is. Offering everything from bucket hats and hoodies to a sports bra and track shorts, it blends sporty classics with darling prints in the most modern of ways. Pieces can be worn together for a coordinated head-to-toe look, or separately with basics as statement pieces.
"I have always admired Champion for its ability to stay true to its roots and heritage, while remaining fresh and relevant," said Viera-Newton in a press release. "I am thrilled to be collaborating with Champion, and to have the opportunity to weave my personality into their classic looks."
While the collection doesn't officially drop until April 2, you can shop it online at the Urban Outfitters website right now. If you're into it, I would load up your basket ASAP — the line is so good, it might sell out. Below are a few of my favorite pieces, though if I had my way, I would buy every single piece emblazoned with cherries.
Across the Frond
Baby palm trees on a cozy sweatshirt? Yes, please. This plus denim cutoffs and white sneakers would make for the perfect put-together lazy girl outfit. Paradoxical? Brilliantly.
Short Order
Because sometimes you want your shorts to do the talking! Gingham is a huge trend for spring and this baby pink version is so sweet. Thanks to the athletic silhouette of the shorts, it balances out.
The Pits
This is hands down my favorite piece from the collection. I've been wanting a bucket hat for a few years now (since they've become cool again, basically) but have been waiting for the perfect one. Covered in cute cherries and reversible (the other side is plain white, save for a trio of cherries and the Champion "C"), this one just might be it.
Feline It
Meow! I tend to stick to black options when it comes to athletic gear (I sweat a lot) so this sports bra naturally caught my eye. Featuring little cheetah and plant motifs, it's bound to inspire a wild workout.