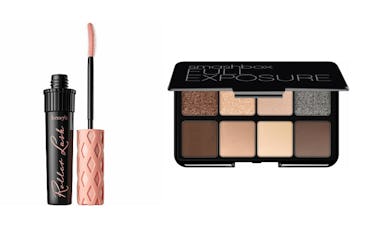 Ulta Is Selling Benefit Mascara For $12 Today & There's Even More Unspeakable Deals
Ulta
The only thing better than Ulta's already amazing prices? Their sale prices. The Ulta 21 Days of Beauty Sale 2018 makeup deals are off-the-charts, and while the sale is already halfway over, the brand has certainly saved the big guns for last. Cue the anticipation.
Back on March 18, the Ulta 21 Days of Beauty Sale began with a bang. Brands such as Tarte, Smashboxh, Urban Decay, and Clinique saw incredible markdowns in the first week. And now, the second week is in full swing, with specials from Becca, Lancôme, Lorac, Stila, Too Faced, and Anastasia Beverly Hills. You get the idea, Ulta's got a lot of brands under their belt. The remainder of week two has even more big names in store and a variety products — everything from Benefit mascara to an anti-aging cleanser.
The last day of the epic 21 day event is Apr. 7, so you've got a little over a week left to shop. But brace yourself: each day's deals are unique, so if you see an item you want, make sure to pounce on it that day! And if it's a hot item, don't even delay a minute.
There's nothing worse than a big "Sold Out" banner across your coveted buy.
Mar. 29
This is one of the best-selling mascara's in the country, according to Ulta, and on Mar. 29 you can get it for only $12 (instead of the usual $24). It comes in both black and brown, and boasts an easy-grip handle that makes fanning your lashes out and up a breeze.
A travel-size eyeshadow palette with eight different shades is pretty remarkable, and when you can get it for half off, that's historical. This particular item is only available online, but if you spend $35 or more on this and any other other Smashbox products, you'll get a free Smashbox Lip & Primer Bundle with your purchase!
Usually retailing at $30, Mar. 29's deal will get you this powerful acne-fighting cleanser, which is laced with salicylic acid, for only $15.
If you also want to fight the effects of time, Murad has an anti-aging acne cleanser that you can get for half off the typical $38 price tag. Both Murad cleansers deploy time-release technology, so the pimple-preventing medicine continues to work all day to purify your pores sans irritation.
Mar. 30
TGIF because Friday, Mar. 30 brings this normally $21 product down to $11. It's a matte liquid lipstick which sounds like sorcery and maybe it is but I'll take it.
Ulta has six different Lime Crime highlighter palettes, all of which usually sell for $38, but for one day only, on Mar. 30, they'll be reduced to $19! This deal is online only, but I rarely ever shop IRL anymore anyway. Plus, the Fairies palette is an Ulta exclusive, so all the more reason to snag it.
These pads provide you the smoothing and resurfacing effects of an in-office chemical peel. Normally they'll run you $45, but not on Mar. 30!
Anastasia is the queen of all things brows, so I'm definitely going to jump on the chance to get this $21 brow pencil for only $11. And it's available in a whopping ten different shades, so can you say brows for days?
Available in this pressed powder form or as a loose Translucent Highlighting Luxury Powder ($10, Ulta), Ofra Cosmetics' banana powder functions as an all-in-one concealer and highlighter magic wand.
Week two is ending with a bang because all Mario Badescu products are 25 percent off. It's not as big of a price slash as the other deals, but it's not limited to just one product either — all of the brand's 92 items sold at Ulta are on sale. I say go big or go home and spring for a fancy facial serum (normally $45), but you can also save on things like Aloe Lotion ($12, Ulta), which will come in handy once you start all your al fresco summer fun.
The third and final week of Ulta's 21 Days of Beauty Sale begins Apr. 1, so check back next week. You know they're going to save the best for last.