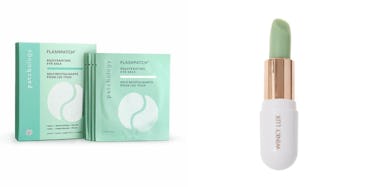 You Can Now Buy Beauty Products In Your Uber, Because It's 2018 So Why The Heck Not?
Patchology / Winky Lux
Have you ever hopped into an Uber only to realize you left your balm for your sunburnt and subsequently painfully peeling lips at home? In that situation, there's nothing worse than watching your apartment and the lip balm it contains get increasingly smaller as you drive away. Uber beauty products are here to help cure such woes like the above with maximum convenience, because why wouldn't a mode of transportation logically double as a drugstore. Wait, what?
On Thursday, it was revealed via a press release that Uber and in-car commerce provider Cargo have struck a global partnership that will "delight riders with snacks, beverages, electronics, and beauty products while on a trip." Essentially, Cargo will provide drivers with boxes filled with the aforementioned products that can be strapped onto armrests. When a rider enters the car they can simply scan the barcode on the top of the box with their phones to see what's inside. About 30% of the box's content will be free samples that brands have paid Cargo to distribute, while the remaining offerings will only run riders a few bucks on average.
In other words, getting into an Uber and having a kick*ss driver offer you free mints or water or — if you're really lucky — candy might be a thing of the past; these boxes will incentivize drivers to have their customers pay for extra goodies. Each time a passenger makes a Cargo box purchase, drivers get 20 percent of the item's cost plus $1 per purchase. Vending machines on the go? What a time to be alive!
As a non-stop snacker I can see myself purchasing chips, Rice Krispies, you name it too often — dangerously often — thanks to this new feature. But having certain beauty offerings available anytime I cruise? That's something I can definitely get behind. According to the press release, the boxes will include Patchology Flashpatch lip and eye masks along with Winky Lux Matcha Lip Balm — products that even the most picky of beauty editors would tell you are legit.
Patchology's Flashpatch eye masks ($15 for five, Patchology) work in five minutes, making them the ideal product to use in an Uber. Whether you had to call a 3:30 a.m. car for a 6 a.m. flight or are feeling less than fresh before an important meeting, these little guys will help rejuvenate and brighten your skin during your commute.
The brand's lip gel masks, too, will give your pout some much-needed hydration. Remember those flaky sunburnt lips I mentioned earlier? They would be no match for one of Patchology's Super Smooth Talker masks ($15 for five, Patchology), which contain soothing peptides and green tea extract. The included niacinamide helps increase ceramides (molecules that help protect and plump up skin) and free fatty acid levels in skin, overall helping your face retain moisture.
If your lips just need a little love and not a full-on (albeit very short) treatment, Uber's got your back. The Cargo box will also include Winky Lux Matcha Lip Balm ($14, WinkyLux), which contains real green tea powder, food-grade vanilla, and coconut and avocado oils. The ingredients come together to create a balm that will help soften, repair, and protect your lips, all while smelling amazing.
Days of tired eyes, chapped lips, and kicking yourself for forgetting your favorite balm at home, begone! Uber's newest collaborative innovation is here to help you live your life with even more ease than before. Which honestly was a lot, if you think about how people even 10 years ago got around. We are spoiled rotten. I digress.
While I can't wait to give this new in-car feature a try, I hope I do so pre-happy hour. If I have even a few martinis in me at the time of purchase I'm pretty sure I'll walk away with all of the Cargo box's edible contents.