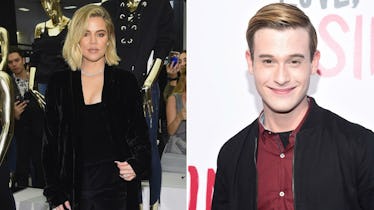 Medium Tyler Henry Saw Khloé K & Tristan's Relationship Issues Almost A Year Ago
Jamie McCarthy/Michael Tullberg/Getty Images Entertainment/Getty Images
What would you say if I told you that there might have been some writing on the wall when it came to Khloé Kardashian and Tristan Thompson's relationship? Not a flat-out, concrete thing, but more of an I-see-it-in-your-future sort of situation. Well, whether you choose to believe it or not, Hollywood Medium Tyler Henry predicted Khloé Kardashian and Tristan Thompson's breakup when he read the Keeping Up With The Kardashians star back in June of 2017, and now I'm shook.
Henry went on The Zach Sang Show and talked about his previous reading with Kardashian and her relationship, and was asked his thoughts on reports that Tristan Thompson was cheating on Kardashian. "Well, I saw some relationship issues," Henry said.
For those who don't know, The Daily Mail put out a report on April 10 that claimed Thompson cheated on Kardashian while in New York City the weekend of April 7. Elite Daily reached out to Kardashian and Thompson's teams regarding the report but did not hear back by the time of publication.
"I was sad," Henry added. "I was sad for her. I mean, the timing is just horrible. I can't imagine having to go through that."
Same, Tyler, same.
He also hoped that what he said to her in their reading together is helping her cope with what's currently going on in her life. "I think getting the validation… Sometimes having information beforehand can be helpful to help a person navigate it," Tyler explained. "And I hope that the information I gave her is helping her navigate life right now because she needs the help, and she's an amazing person."
You can watch the whole interview here, but if you want to get to the bit about Kardashian, fast-forward to around the 19:45 mark:
For those of you who didn't watch Henry's reading with Khloé Kardashian (first off, who are you, and how dare you?), let me just recap: Henry was referencing Kardashian's "next boyfriend" and talking about how her love life hasn't reached its potential just yet. "I really am feeling like love life is not the area right now that's reaching its peak. Career is really that area," he said.
In her reading, Henry also kept seeing a clock — a symbol that represents two people who may not necessarily be on the same page with things. He told Kardashian,
So one of the challenges that's coming through is a referral of ultimately being distanced but in a physical sense. What comes through is literally, I'm seeing a clock… and it's symbolic for basically saying that a schedule, or two people's schedules, would not be ideal for kind of a cohesive relationship.
Henry also told Kardashian, "If we have two individuals who are both very driven, doing their own things, the feeling is, we want to ensure that we have enough time for a relationship to be able to have that," adding that it "can be a challenge if two people are motivated and are not necessarily always together physically with where they're going."
So, did Henry fully predict that Tristan Thompson would reportedly be cheating behind Kardashian's back? No. But it's pretty clear that he didn't see the two of them living happily ever after, either.
There was something else that Tyler Henry said to Kardashian during his reading that just doesn't feel good, and that's about Thompson's future travels. "I'm kind of almost like, 'Oh, I don't know if that would even be reasonable for them to, like, do this much,'" he told Kardashian, and asked her to remember him saying those words — which probably didn't make all that much sense to her at the time. But now that reports of Thompson cheating on Khloé have been reported from when he was in New York City, Washington D.C., and Boston (while he lives in Cleveland), it seems sort of right on the nose if you ask me. Elite Daily reached out to Kardashian and Thompson's teams for comment on each report but did not hear back by the time of publication.
Mind. Blown.