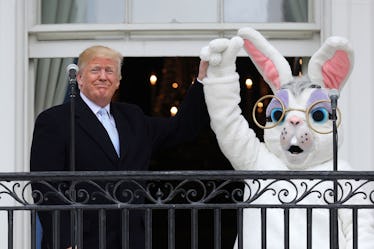 Twitter Has Theories About Who's In The Bunny Suit At The Easter Egg Roll & I Can't
Chip Somodevilla/Getty Images News/Getty Images
You can always rely on Twitter users to turn the most serious festivities into a stream of unforgettable reactions and hilarious speculations, and that's exactly what happened on April 2 when the White House held its annual Easter Egg Roll. Instead of focusing on the activities the event had to offer (like how in the world you roll an egg across a yard with only a wooden stick....?), some people turned their attention to the guy inside the bunny costume. And let me just warn you: The tweets about who's in the bunny suit have me weak from laughter, so you should get ready.
At the event, President Trump stood on the Truman balcony with his wife, Melania, and their Easter Bunny to share warm remarks about the military and the economy with attendees. At one point, the president said:
This is a special year. Our country is doing great. You look at the economy, you look at what's happening. Nothing's ever easy, but we have never had an economy like we have right now. And we're gonna make it bigger and better and stronger. Our military is now at a level, will soon be at a level that it's never been at before.
Usually, Twitter users would punch out messages to debate Trump's claims, but this time, some people were too wrapped up in the guessing game of just who was behind the bunny costume.
Many people suspected that it was someone Trump had feuded with in the past.
Others guessed that Sean Spicer had decided to make his return to the White House — in one way or another. Considering the former press secretary has his own history with the Easter Bunny costume, it's not the wildest guess out there. I was rooting for it.
There were some other pretty interesting guesses, too.
Stormy Daniels? You guys, I seriously cannottt.
But Scott Bixby, an editor for The Daily Beast, revealed in a tweet that the White House had told him that the guy behind the costume was Commander Richard I. Lawlor of the U.S. Navy, putting the speculation to rest once and for all.
It was so much more fun to think that it could've been someone like Daniels — especially considering the bombshell interview she gave just eight days before the egg roll.
On March 25, Daniels sat down with Anderson Cooper to discuss her alleged affair with the president, which reportedly occurred in 2006 while Melania was pregnant with her and Trump's son, Barron. Trump has continuously denied Daniels' claims, with the White House saying that the claims she made in the interview are "not accurate." But Melania was reportedly "furious" and "blindsided" by reports of the alleged affair.
However, at the egg roll (which is Trump's and Melania's first outing together since the interview), the couple looked better than ever. They were photographed holding hands and the president even gave a short speech to pay tribute to his wife for the hard work she put into planning the event. According to People, he said, "I want to really thank the first lady, Melania, who has done an incredible job. She worked so hard on this event, and I so want to thank you." Trump then added,
Also, I want to thank the White House Historical Association and all of the people that work so hard with Melania, with everybody, to keep this incredible house or building, or whatever you want to call it — because there really is no name for it; it is special — and we keep it in tip-top shape. We call it sometimes tippy-top shape.
The Easter Egg Roll, which is usually held by the first lady, dates back to 1878 and has had whopping turnouts since. According to the White House website, 21,000 people attended the festivities in 2017 and more than 30,000 were expected to attend this year's roll.
Many people were super hyped about this year's celebration because Melania introduced a few more exciting activities for kids to indulge in: She reportedly added lawn bowling, a reading nook where she and others would take turns reading to children, and also a station where they could make greeting cards for United States soldiers.
That said, there was way too much for Twitter users to focus on instead of who was behind this costume. But then again, I guess that's how it usually goes, right?