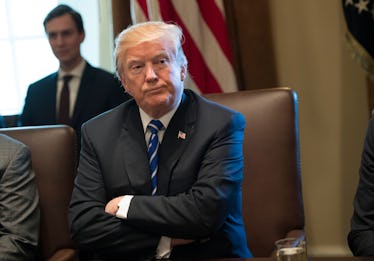 People Can't Get Over Trump's 'TIME' Tweet & Their Responses Will Crack You Up
Pool/Getty Images News/Getty Images
Donald Trump has some ~feelings~ about TIME. You see, he really likes the idea of being selected for the magazine's coveted Person of the Year cover, and gets pretty fussy when it seems like that might not happen. Tweets about Trump's TIME tweet will make you want to laugh, cry, and pack up all your belongings and move to a new country. I'm right behind you, by the way.
The drama all began when Trump took to Twitter on Nov. 24 with what I can only describe as his cattiest tweet yet. Like, it was just super, super unnecessary. We were all just trying to enjoy the remainder of the holiday, eat some leftover pumpkin pie, and have a few moments of uninterrupted bliss.
He wrote,
Time Magazine called to say that I was PROBABLY going to be named "Man (Person) of the Year," like last year, but I would have to agree to an interview and a major photo shoot. I said probably is no good and took a pass. Thanks anyway!
TIME swiftly noted that there were some errors in his statement, writing,
The President is incorrect about how we choose Person of the Year. TIME does not comment on our choice until publication, which is December 6.
The publication doubled down on their denial, with TIME's Chief Content Officer Alan Murray also taking to Twitter on Nov. 24 to write,
Amazing. Not a speck of truth here—Trump tweets he 'took a pass' at being named TIME's person of the year
Meanwhile, the internet went full ruthless on Trump's claim.
Namely, they didn't believe him. They really, REALLY didn't believe him.
It's worth noting that the Person of the Year award has been very important to the president in the past. He was pretty miffed back in 2015, when German Chancellor Angela Merkel was awarded the title over him and took to Twitter to vent his frustrations.
When he did get named Person of the Year in 2016, he was over the moon.
"It's a great honor," Trump told NBC's "Today" show in Dec. 2016. "It means a lot, especially me growing up reading TIME Magazine. And it's a very important magazine, and I've been lucky enough to be on the cover many times this year — and last year. But I consider this a very, very great honor."
Need additional proof that Trump really, really cares about being on the cover of TIME Magazine?
The Washington Post reported in June that there are framed pictures of Trump on a fake TIME's Person of the Year cover hanging in at least five of the president's gulf clubs.
"Donald Trump: The 'Apprentice' is a television smash!" one headline reads, alongside another headline written in all caps: "TRUMP IS HITTING ON ALL FRONTS . . . EVEN TV!"
"I can confirm that this is not a real TIME cover," Kerri Chyka, a spokeswoman for TIME Inc., told The Washington Post.
The president hasn't seemed to have quite made up his mind about TIME. Does he love them? Hate them? A little bit of both? Despite all his grand statements about the publication being an "important magazine," he has also tweeted a number of deragatory statements as well. Like in 2012, when he tweeted,
I knew last year that @TIME Magazine lost all credibility when they didn't include me in their Top 100...
That very same year he slammed the publication again, writing,
Despite the upcoming election, the cover of paper-thin Time Magazine looks like an ad for the movie Lincoln--sad!
It's hard when you can't quite make up your mind about something or someone. Might I humbly suggest that the president buy a diary, and really get out all his rollercoaster feelings in there? Meanwhile, we'll enjoy what's left of this brief holiday.