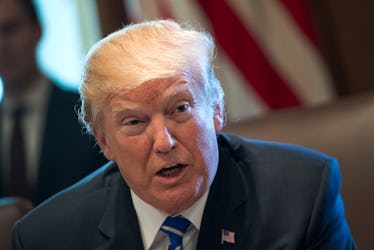 Trump Said He "Took A Pass" On Being Person Of The Year 2017 & 'TIME's Response Was So Savage
Pool/Getty Images News/Getty Images
There's a Twitter throwdown currently happening between our president and a major newspaper publication, which should probably be surprising to exactly no one. Trump has a long, weird relationship with TIME, and things finally came to a head between the two shortly after Thanksgiving. Trump's tweet about passing on Person of the Year pretty much prompted an all out Twitter battle between him and the magazine publication.
On Nov. 24, Trump took to Twitter with quite possibly one of his most high school tweets yet. He wrote,
Time Magazine called to say that I was PROBABLY going to be named "Man (Person) of the Year," like last year, but I would have to agree to an interview and a major photo shoot. I said probably is no good and took a pass. Thanks anyway!
*Sigh.* Many apologies for ruining whatever meal you may have just eaten. That's some serious Regina George stuff right there. Like, he's pretty much one step away from saying, "boo, you whore" and telling TIME that they can't sit at his lunch table.
Well, the magazine had a bit of a bone to pick with Trump's statement, and, that very same day, responded,
The President is incorrect about how we choose Person of the Year. TIME does not comment on our choice until publication, which is December 6.
TIME's Chief Content Officer Alan Murray also weighed in on the situation, writing that there wasn't a "speck of truth" to Trump's remarks.
And yet, it appears that TIME is not denying that they asked Trump to be Person of the Year — only that he is incorrect about the magazine's selection process. Trump's statement (aside from being incredibly childish) isn't all that outlandish. The magazine would indeed need to ensure that they had access to him for an interview and a photoshoot before the publication date.
There have been examples, however, that TIME has not collaborated with their subjects ahead of publication. In 2015, for instance, the magazine did not interview or photograph German Chancellor Angela Merkel when she was selected as Person of the Year. Instead, a painting of her was featured on the cover.
Logistics aside, Trump has quite a complicated history with TIME Magazine.
Back in 2015, he slammed the outlet for giving Merkel the coveted title over him.
TIME Managing Editor Nancy Gibbs responded to the dig by telling NBC News in Dec. 2015,
If he is as good at winning votes as he is at winning news cycles, then in the months to come he may well position himself that we may be here a year from now. In the history of Person of the Year, we've actually never named a presidential candidate as Person of the Year.
Trump then seemingly decided to take matters into his own hands. According to a June report from The Washington Post, framed pictures featuring Trump on a fake copy of TIME's Person of the Year issue were hung in at least five of the president's gulf clubs.
"Donald Trump: The 'Apprentice' is a television smash!" the headline read, along with another headline in all caps: "TRUMP IS HITTING ON ALL FRONTS . . . EVEN TV!"
"I can confirm that this is not a real TIME cover," Kerri Chyka, a spokeswoman for TIME Inc., told The Washington Post.
In 2016, Trump finally, finally got his wish. He was selected as TIME's 2016 Person of the Year, and was beyond delighted.
"It's a great honor," Trump told NBC's "Today" show in Dec. 2016. "It means a lot, especially me growing up reading TIME Magazine. And it's a very important magazine, and I've been lucky enough to be on the cover many times this year — and last year. But I consider this a very, very great honor."
Hmmm. It really seems like Trump has a very love/hate relationship with the publication. Either way, he's definitely not going to win any points by negging TIME. Should we just go with Taylor Swift Person of the Year 2017? It's a safe bet all around.