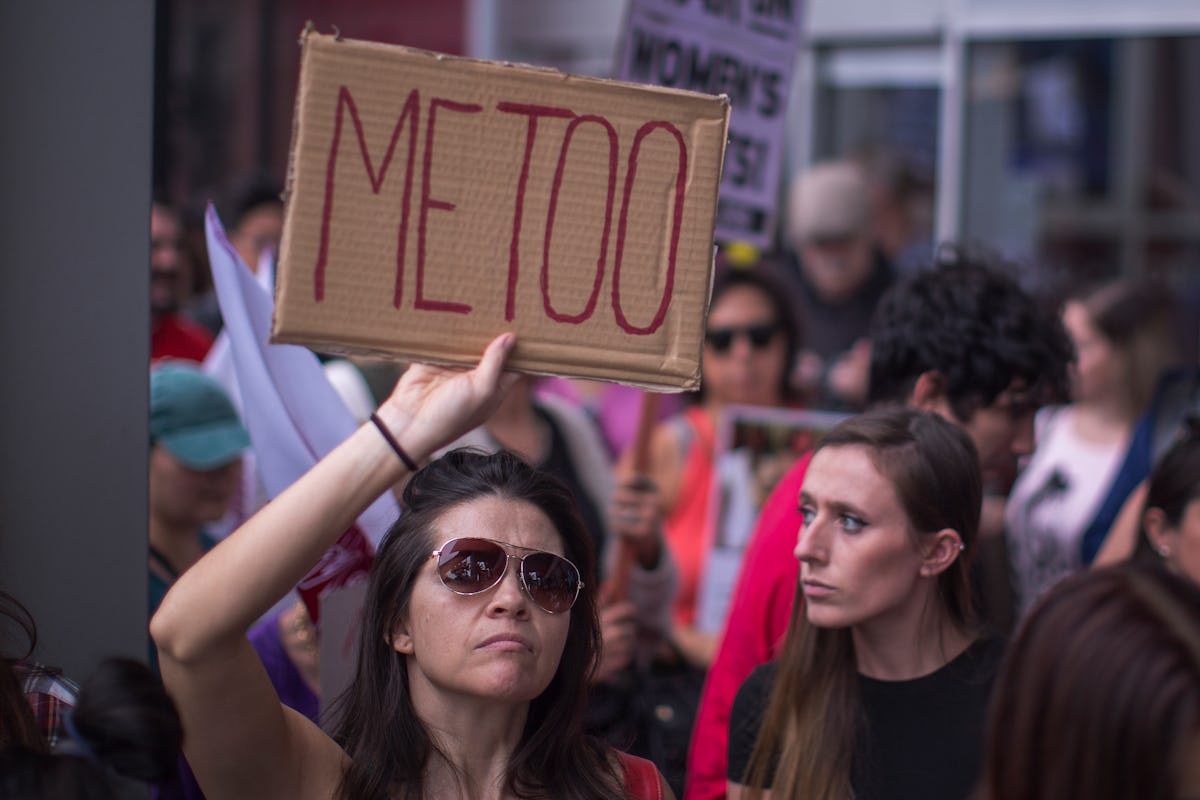 The Silence Breakers Have Been Named 'TIME's Person Of The Year & Twitter Is Proud
David McNew/Getty Images News/Getty Images
The moment finally arrived. On Dec. 6, TIME announced what the whole country had been anticipating for weeks, and the publication certainly made quite an impact with its big reveal. Tweets about TIME's Person of the Year 2017 — the Silence Breakers, the victims who took a stand against sexual harassment and refused to accept this behavior as the new norm — prove women are so proud to stand together.
The 2017 title took a bit of a turn and focused not on one individual, but several who had spoken out this year after coming forward with their alleged experiences of sexual harassment. Some of the women featured on the cover include actress Ashley Judd, former Uber engineer Susan Fowler, and singer Taylor Swift. Many others, such as actress Selma Blair and Senator Sara Gelser, were quoted in the piece. It was certainly a powerful selection, to say the least.
"The galvanizing actions of the women on our cover… along with those of hundreds of others, and of many men as well, have unleashed one of the highest-velocity shifts in our culture since the 1960s," a statement from TIME editor-in-chief Edward Felsenthal read.
Once this selection was revealed, many took to social media to praise the publication's choice.
#TimePersonOfTheYear, #TheSilenceBreakers, and #TIMEPOY began trending on Twitter. Positive reactions poured in early Wednesday morning after the announcement.
Footage began to circulate of the women who were interviewed for the piece, including actress Rose McGowan and #MeToo creator Tarana Burke, among others.
The conversation, including the nod to the #MeToo movement, proved that many people were ready to put the blame on the attacker. Activist Tarana Burke, founder of #MeToo, is in agreement. She said, "Sexual harassment does bring shame. And I think it's really powerful that this transfer is happening, that these women are able not just to share their shame, but to put the shame where it belongs: on the perpetrator."
But the voices behind the conversation weren't just women.TIME even included male perspectives in the article as well to ensure that all voices in this alarming issue were heard. Actor Terry Crews — who had similar views to Burke — shared his story of alleged sexual harassment against a Hollywood agent he claims had groped him.
"People were saying, 'You should have beaten him up.' I'm like, 'Why is nobody questioning him?' Nobody questions the predator," Crews told Time. "You know why? Because they just expect it. And I expect it. And I just said, 'No more.' Why are you questioning the victim here? Let's flip it. Let's talk about what the predator is doing."
Though the 2017 selection has left a powerful mark on society, there were runner-ups who were also considered for the title.
One of the possibilities were former NFL quarterback Colin Kaepernick, who inspired the #TakeAKnee movement on the field, which took a stand against police brutality. It made quite a splash in the headlines this year, as President Donald Trump took to Twitter to condemn the players who took a knee.
Speaking of the commander in chief — who was given the Person of the Year title in 2016 — he was recently roasted on social media for assuming he'd receive the same accolade this year. He took to Twitter and said,
Time Magazine called to say that I was PROBABLY going to be named "Man (Person) of the Year," like last year, but I would have to agree to an interview and a major photo shoot. I said probably is no good and took a pass. Thanks anyway!
Well, TIME had a few words for the president. The magazine responded with a statement of its own, which read,
The President is incorrect about how we choose Person of the Year. TIME does not comment on our choice until publication, which is December 6.
Another contender for #POY was China's president, Xi Jinping, a fact that TIME also mentioned on Dec. 6.
The Silence Breakers will definitely go down in history, and their story is worth a read. After all, these powerful voices shaped our nation for an entire year — and, in reality — much longer.