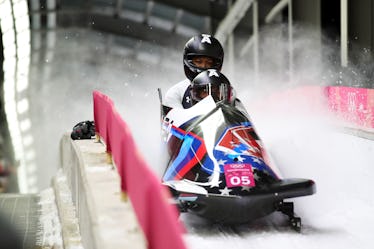 The U.S. Women's Bobseld Team Took Home The Silver Medal & Twitter Is Proud
Alexander Hassenstein/Getty Images Sport/Getty Images
On Wednesday, Feb. 21, Team USA's duo of Elana Meyers Taylor and Lauren Gibbs won silver in the two-woman bobsled event at the Winter Olympics in PyeongChang, South Korea. Meyers Taylor and Gibbs' performance now means that Americans have medaled in the event at five successive Winter Games, with the 33-year-old Meyers Taylor having won three of them. On social media, the success prompted tweets about the U.S. women's bobsled silver medal win on Wednesday, congratulating the athletes on their run.
The pair of Americans narrowly missed out on gold by under a tenth of a second to the German team of Mariama Jamanka and Lisa Buckwitz. Claiming third place was Canada's Phylicia George and Kaillie Humphries, who finished just under five tenths of a second behind Meyers Taylor and Gibbs at the Olympic Sliding Centre in PyeongChang, South Korea.
Another Team USA pair, consisting of Aja Evans and Jamie Greubel-Poser, finished fifth.
"We're very proud of what we did," Evans said after the event, per The Denver Post. "It's still tough. It's going to be tough for a while. But we laid it all on the line, so there's zero regrets."
Meyers Taylor and Gibbs' success capped an eventful day for American women at the PyeongChang Olympics. At the sliding centre, Team USA secured two top-five finishes. On the slopes, star alpine skier Lindsey Vonn won bronze in the downhill event after missing the 2014 Winter Olympics because of injuries. Then, there were the American women who won gold in cross country skiing, marking the first time in Olympic history Team USA won the event.
After Wednesday's bobsled result, Nic Taylor, Meyers Taylor's husband, put his wife's silver medal win perspective.
"She lifts 400 pounds regularly," Taylor told the Detroit Free Press. "Dead lifts. Squats. 400 pounds. Regularly. This is every day. For four years. All for a chance to be able to race and have things come down to less than a tenth of a second."
Nic Taylor is in PyeongChang as a Team USA alternate for men's bobsled, which means he and Elana Meyers Taylor are one of few athlete couples at the Winter Olympics. (American figure skating duo Alexa and Chris Knierim is another.)
"Being so involved in each other's results, it brings a heightened sense of calm and a heightened sense of chaos into every single situation," Nic told The Washington Post ahead of the start of the Olympics. "Because you can help so much leading into something. 'I'll help you build the parachutes. I'll help you polish your runners. I'll help you wax your sled.' We can talk about push technique. We can talk about driving. That all brings a ton of confidence."
For Meyers-Taylor, having her husband in PyeongChang has been an "asset."
"He's trying to be as supportive of me as possible and at the same time trying to do what he needs to do," Meyers Taylor told The Post. "Being an Olympic alternate, it's incredible just to have that experience. But at the same time, I think it's going to be a huge asset for me to have him at the Games alongside the entire time."
Elana Meyers Taylor now adds her PyeongChang silver medal to her silver medal from the 2014 Winter Games in Sochi and her bronze from the 2010 Winter Games in Vancouver.
Lauren Gibbs' silver for Team USA, on the other hand, is her first ever Olympic medal. Just a few years ago, Gibbs was a sales manager in Colorado.
"That was the path I expected to be on, but a path I'm glad I'm not on," Gibbs told The Los Angeles Times before the Olympics began. "I had a corporate job and wore a suit to work every day, and I just kind of felt like I wasn't living my authentic self or doing what I was passionate about."
Now, Gibbs is an Olympic medalist.