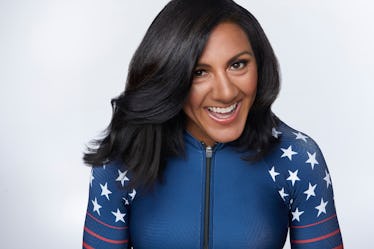 Elana Meyers Taylor's Olympic Beauty Routine Could Win A Gold Medal — Literally
Courtesy of Pantene
When it comes to an athlete's performance, their chosen beauty look isn't usually considered an affecting factor. But Elana Meyers Taylor's Olympic beauty routine proves that, for her, it absolutely is. The American bobsledder, who already holds both a silver and a bronze medal from previous games, was named Pantene's Gold Series athlete partner for the 2018 PyeongChang Winter Olympics, and after hearing just how big of an impact her hair — yes, her hair — can have on her game-day performance, it's easy to understand why. That, and the fact that when it comes to perseverance and adaptability, she sets the gold standard.
Meyers Taylor grew up playing softball in Atlanta, Georgia and knew from a young age that she wanted to be an Olympian. She trained like crazy at her sport, eventually attending and playing for George Washington University while working towards her ultimate goal of making it to the 2008 Olympics. But then, life threw a literal curveball her way: not only did Meyers Taylor not make the 2008 team, but softball was removed from the Olympic Games altogether after that year. Rather than let her lifelong dream shatter and be swept to the wayside, the athlete recalibrated, pivoted, and figured out a different way to make her dream become a reality.
"I still wanted to be an Olympian, and in order to be one I needed a new sport," Meyers Taylor tells me in an interview with Elite Daily. Her parents were the ones who first suggested she look into bobsled; they remembered how Vonetta Flowers had turned to the sport after failing to make the Team USA Track and Field Team for the 2000 Summer Olympics, and in 2002, subsequently became the first African American to win a gold medal at the Winter Olympics for bobsled. "Believe it or not, I Googled 'bobsled,' emailed the coach, and was invited to try out for the team in Lake Placid, New York," says Meyers Taylor. " It was all my mom's idea."
She made the team, and just two years after doing so accomplished her ultimate goal by competing in the 2010 Winter Olympics in Vancouver, Canada. Not only did she compete, but she and her bobsled partner took home the bronze medal. "I was just happy to be there," she says. "I was competing with no expectations."
In 2014, she once again made it to the Games, this time taking home the silver medal with her teammate. "With already having a medal, I kind of went in with the intention to medal again — there was a little bit more pressure," she says. Although she hopes to continue her winning streak and says she wants a gold medal "more than anything" this year in PyeonChang, her main goal centers on personal improvement: "I want to make sure I go down the bobsled track and have the best performance of my life."
"Plus, anything with 'gold' in the title is something I want to be a part of."
It's that mentality that renders Meyers Taylor an indisputable champion regardless of medals, and explains why Pantene selected her as their Gold Series athlete for this year's Games. That, and the fact that her hair legitimately affects her sport, and vice versa. "I'm from Georgia so when I decided to start bobsledding I didn't even own a winter coat," she laughs.
"When I started training in the bitter temperatures, my skin and hair got really dry. I'm literally ripping a bobsled helmet on and off my hair, so it's so important to have products that are able to handle all of that." To combat the dryness, Meyers Taylor regularly uses Pantene Gold Series' Sulfate-Free Shampoo and Hydrating Butter Crème, which vows to leave hair looking and feeling hydrated. "I feel like it keeps my hair moisturized throughout the day, which has been incredible," she says.
Race-day hair takes some extra effort, and not just because it might appear on a television screen or two. "I've had my helmet actually shift on my head because of a certain hairstyle, and if the helmet is shifting it can interrupt my vision — I have to be really careful with how my hair fits in my helmet," explains Meyers Taylor, who has gotten the perfect style routine down to a science. "My hair is naturally curly, so after I wash it I'll use some of Pantene's Detangling Milk and wear it natural for a couple of days. Then, before the competition, I'll put on a podcast and flat iron it. The cool thing about the different products with Pantene is that it doesn't make my hair too oily — if it's oily my helmet will slip down over my eyes. I'll wear it down to the race, put it in a low ponytail for the event, and as soon as I get to the bottom, I'll take it out again."
It's pretty incredible to think that the wrong hair product has the ability to cost the best athletes on earth a global title that they've worked so hard for, but it goes to show that the beauty industry is about way more than appearance, which is something that Pantene and Meyers Taylor clearly understand well.
"For me, it was a really good opportunity to partner with a company that is not only focused on having the best hair products, but also having hair products that work for people of all hair textures and all different shapes and colors and everything else," says the athlete. "Plus, anything with 'gold' in the title is something I want to be a part of," she adds with a laugh.
"Gold medalist Elana Meyers Taylor" has a nice ring to it, no?