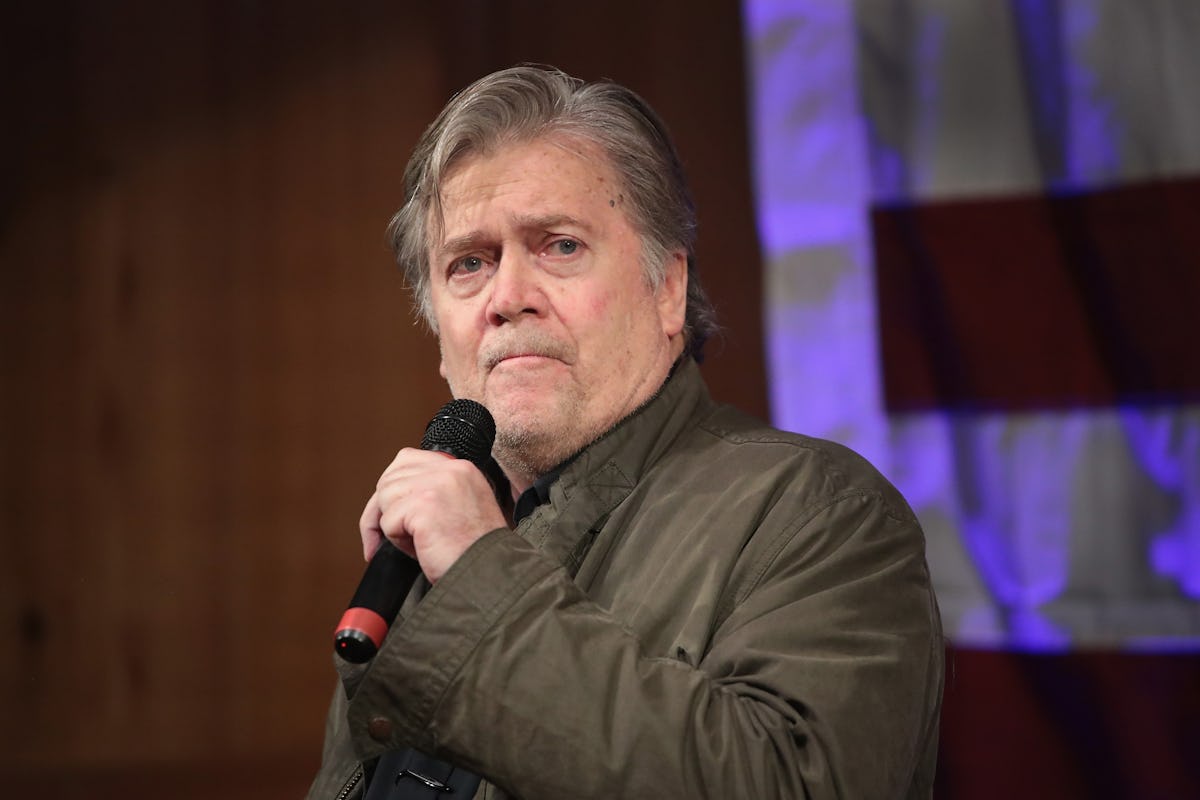 Steve Bannon Is Leaving Breitbart & No One's Sad To See Him Go
Scott Olson/Getty Images News/Getty Images
Some surprising but not exactly unhappy news emerged from Breitbart News on Tuesday, Jan. 9. According to a statement, Steve Bannon is stepping down from Breitbart News, where he served as executive chairman. As the news hit the internet, people took to social media to share tweets about Bannon leaving Breitbart — and, strangely, no one seemed particularly sad for him.
The statement announcing Bannon's departure is short and to the point, stating that "Bannon and Breitbart will work together on a smooth and orderly transition."
"I'm proud of what the Breitbart team has accomplished in so short a period of time in building out a world-class news platform," Bannon said in the statement. His comment was followed by one from Breitbart CEO Larry Solov, who said, "Steve is a valued part of our legacy, and we will always be grateful for his contributions, and what he has helped us to accomplish."
It's only been nine days, and Bannon's already had an interesting 2018. He kicked off the year with a starring role in the newly released book Fire and Fury: Inside the Trump White House, which was written by reporter Michael Wolff. Bannon was heavily quoted in the book, which included him calling a meeting between Donald Trump Jr., Jared Kushner, Paul Manafort, and a Russia lawyer "treasonous." Bannon was also quoted in the book as saying that the Department of Justice's investigation into possible collusion between the Donald Trump presidential campaign and Russia "is all about money laundering."
These quotes, in turn, led President Trump to lash out at Bannon, who worked on Trump's campaign and was the White House Chief Strategist until August 2017, when he resigned and went back to Breitbart. "When he was fired [from the White House], he not only lost his job, he lost his mind," the president said in a statement that attempted to distance Bannon from the White House. Earlier this week, Bannon walked back his "treasonous" comment, saying he was only talking about Manafort. He did not, however, comment on calling Ivanka Trump "dumb as a brick" in the Wolff book.
Given all the recent drama, the reactions to the news on Twitter were swift — and not too kind.
Bannon has been a polarizing figure on all side of things.
After making nice with Trump throughout the presidential campaign and White House transition, clearly Trump's friendship with Bannon has since ended, as evidenced by the fiery tweets and new nickname Trump has provided ("Sloppy Steve"). The tension was especially heightened throughout the late fall of 2017, when Trump and Bannon faced off by proxy for the Alabama Senate race. Bannon supported candidate Roy Moore, while Trump was all in on Luther Strange. (Moore became the Republican candidate, but ultimately lost to Doug Jones, the Democrat.) With that, it seemed as if Bannon was positioning himself against the mainstream Republican party. That's one way to make enemies.
Another way to make enemies is to work for Breitbart News, an incendiary publication known for its extreme conservative stances. And from 2012 until this Tuesday (with some presidential time off), Bannon was a leader there. That made him enemies over on the other side of the aisle, as progressives continually denounced him. Although Breitbart and Bannon have claimed to not be alt-right, they are very much linked to the alt-right, including white nationalists and generally problematic people.
All in all, Bannon's not the most popular guy in the country at this moment with just about anyone on any side of the political spectrum. So peace out, Bannon.